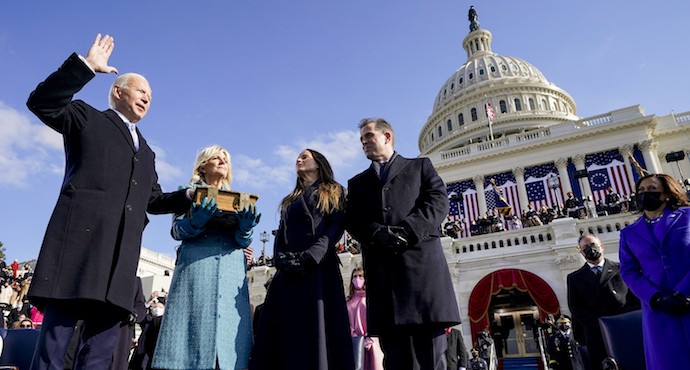 World leaders congratulate US President Biden and Vice President Harris
News, US
January 20, 2021
No Comments
Leaders from around the world react as the new U.S. President took his oath
United Kingdom
Prime Minister Boris Johnson congratulated President Joe Biden and said that he looked forward to working with Biden, and with his new administration, "strengthening the partnership between our countries and working on our shared priorities from tackling climate change, building back better from the pandemic and strengthening our transatlantic security."
Congratulations to @JoeBiden on being sworn in as President of the United States and to @KamalaHarris on her historic inauguration. America's leadership is vital on the issues that matter to us all, from climate change to COVID, and I look forward to working with President Biden.

— Boris Johnson (@BorisJohnson) January 20, 2021
Canada
Canadian Prime Minister Justin Trudeau said that the two countries "enjoy one of the most unique relationships in the world, built on a shared commitment to democratic values, common interests, and strong economic and security ties. He added that he look forward to working with President Biden, Vice President Kamala Harris, their administration, to make the two countries safer, more prosperous, and more resilient.
Congratulations, @JoeBiden, on your inauguration as the 46th President of the United States. Our two countries have tackled some of history's greatest challenges together – and I'm looking forward to continuing this partnership with you, @KamalaHarris, and your administration.

— Justin Trudeau (@JustinTrudeau) January 20, 2021
Germany
Germany's President Frank-Walter Steinmeier termed Biden's inauguration a "good day for democracy".
France
French President Emmanuel Macron lauded new US President Joe Biden's decision to return to the Paris Agreement climate accord, telling him "welcome back" in a congratulatory message.
European Union
European Commission President Ursula von der Leyen said that "Europe stands ready. To reconnect with an old and trusted partner."
NATO
NATO Secretary-General Jens Stoltenberg said that the "bond between North America and Europe is the bedrock of our security, and a strong NATO is good for both North America and Europe." he added that NATO Allies need to stand together to address the security consequences of the rise of China, the threat of terrorism, including in Afghanistan and Iraq, and a more assertive Russia.
Israel
Congratulating U.S. President Joe Biden and Vice President Kamala Harris, the Israeli Prime Minister Benjamin Netanyahu said that he looks forward to working to"strengthen the U.S.-Israel alliance, to continue expanding peace between Israel and the Arab world."
Japan
Japanese Prime Minister Yoshihide Suga said that "Japan and the United States are allies tied firmly by bonds and shared universal values."
Congratulations to President @JoeBiden and Vice President @KamalaHarris on your inauguration. Japan and the United States are allies tied firmly by bonds and shared universal values.

— 菅 義偉 (@sugawitter) January 20, 2021
Pakistan
Prime Minister of Pakistan Imran Khan said that he hoped to work with the newly elected U.S. President "in building a stronger Pak-U.S. partnership".
India
Indian Prime Minister Narendra Modi said that he is committed to working with President Joe Biden to take the India-U.S. partnership to even greater heights.