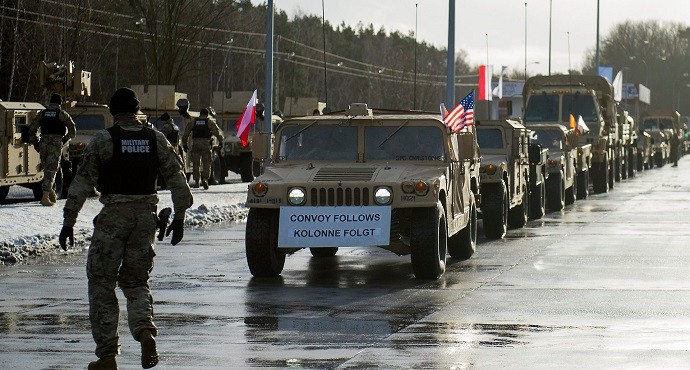 US troops deployed in Poland to reinforce NATO, Russia calls move provocative
Europe, News, US
January 12, 2017
No Comments
About 1,000 of a promised 4,000 United States troops have arrived in Poland
The United States is sending tanks and soldiers to Poland and the Baltic states to counter a perceived threat from Russia as part of its biggest military deployment in Europe in decades.
About 1,000 of a promised 4,000 troops arrived in Poland at the beginning of the week, the Polish defence ministry announced on Tuesday. Their arrival will be formally marked in a welcome ceremony on Saturday.
The troops will be followed by around 2,800 tanks and other pieces of military equipment which are being transported by land from Germany.
Zagan Base in southeast Poland will be the main welcoming venue with the attendance of Polish Prime Minister Beata Szydlo, and Minister of Defense Antoni Macierewicz.
This week, the number of U.S. troops stationed in Poland is to rise further; the current deployment will involve a 4,000-strong Armored Brigade Combat Team (ABCT) supported by 90 tanks, 18 self-propelled howitzers, 144 Bradley combat vehicles and 400 Humvee wheeled vehicles.
After their first joint maneuvers in Poland, the units will be deployed to Bulgaria, Romania and the Baltic states of Lithuania, Latvia and Estonia.
NATO's latest deployment along Russia's western border falls under Operation Atlantic Resolve, a mission designed to demonstrate to Moscow Washington's commitment to defend allies in Europe.
Atlantic Resolve was launched in the immediate outcome of Russia's annexation of Crimea, which sparked fears in the Baltic nations that Vladimir Putin was planning a similar land-grab there.
Kremlin says U.S. military in Poland threatens Russia, destabilizes Europe
The Kremlin made clear on Thursday it was concerned by the move, which was described by a spokesman for Vladimir Putin as an aggressive step along Russia's borders.
"We perceive it as a threat," Dmitry Peskov said. "These actions threaten our interests, our security. Especially as it concerns a third party building up its military presence near our borders. It's not even a European state."
Dmitry Peskov, spokesman for Russian President Vladimir Putin, said the arrival of U.S. troops in Poland  threatens Russia's "interests and our security," while Alexei Meshkov, Russia's deputy foreign minister, said the NATO operation is a "factor destabilizing European security."