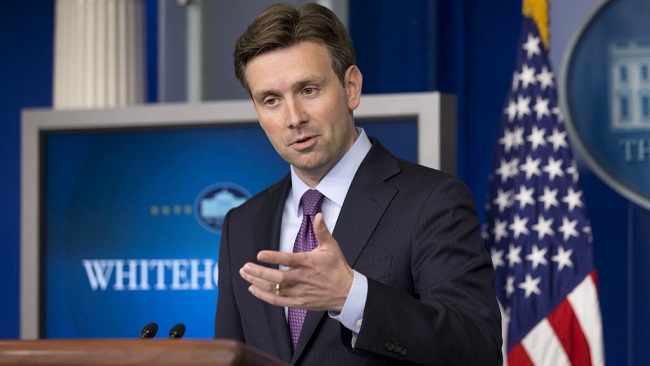 The US military has warned Damascus not to interfere in its ongoing air campaign in Syria, after a US drone was shut down over the coastal province of Latakia.
"We certainly continue to believe that that is what the Assad regime [sic] should do, which is not interfere with our ongoing efforts there as we deal with ISIL and some other extremists that may pose a threat to the United States and our interests around the world,"  White House spokesman Josh Earnest said on Thursday.
"That — our insistence that they not interfere is — still applies," he said.
On Tuesday night, Syrian media reported that the country's air force had targeted a US surveillance jet over Latakia. The Syrian television also broadcast footage of the drone's wreckage.
The US military confirmed that it "lost contact with a US MQ-1 Predator unarmed remotely piloted aircraft operating over northwest Syria."
A senior US Defense Department official also warned Syria over the downing of the aircraft, USA Today reported.
But, the official, who spoke on condition of anonymity, said it seems that the mistake may have been on part of US forces that allowed the Predator to wander away into "sensitive airspace."
He further said it may take days for the military to reach a definitive conclusion on the reason for the attack.
The Pentagon and White House have so far not admitted that the Syrian military had shot down the drone.
The Syrian government has been fighting terrorists from various countries.
The United States and its regional allies – especially Qatar, Saudi Arabia, and Turkey – are supporting the militants operating inside the embattled country.
The US-led coalition, which claims to have been targeting ISIL positions, has also attacked the provinces where the ISIL militants are not active and even hit Syrian infrastructure.
The violence fueled by Takfiri groups has  claimed the lives of over 215,000 people, according to reports. New figures show that over 76,000 people, including thousands of children, lost their lives in Syria last year.
Over 7.2 million Syrians have reportedly become internally displaced due to the ongoing crisis.
SB/GJh