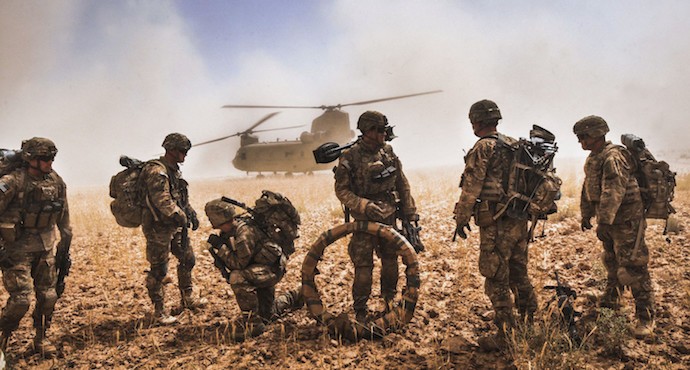 White House says US has started withdrawing troops after Trump declared ISIS has been defeated in Syria
The United States has begun withdrawing troops from Syria, the White House said Wednesday, shortly after U.S. President Donald Trump tweeted the U.S. has defeated the Islamic State terror group there.
"We have started returning United States troops home as we transition to the next phase of this campaign," White House spokesperson Sarah Sanders said in a statement. Sanders said that the US "has defeated the territorial caliphate" and that America has "started returning United States troops home."
US President Donald Trump has announced the complete withdrawal of all American troops from Syria within 60 to 100 days, tweeting: "We have defeated ISIS in Syria, my only reason for being there during the Trump Presidency."
We have defeated ISIS in Syria, my only reason for being there during the Trump Presidency.

— Donald J. Trump (@realDonaldTrump) December 19, 2018
The US has about 2,000 troops on the ground in the country, where they are primarily training local forces to combat ISIS. The US-backed and Kurdish-led Syrian Democratic Forces have had some recent success against the terror group and are on the cusp of capturing the last major town held by ISIS east of the Euphrates.
However, the Pentagon still says that ISIS has as many as 17,100 fighters in Syria, and about 30,000 total between Syria and Iraq.
Why is US withdrawing troops from Syria?
The announcement on US troops came as Turkey threatens a new offensive in northern Syria against US-backed Kurdish group which is considered to be a serious terrorist threat by Turkey. As Turkish forces want to push their troops into Syria, US announced the withdrawal of its forces as a confrontation between the US and Turkey would create a geopolitical crisis at the heart of the world's most powerful military alliance.
The decision by Trump to pull out US ground troops out of Syria follows a phone call between Trump and his Turkish counterpart Recep Tayyip Erdoğan on Friday, a U.S. official told Reuters, noting "Everything that has followed is implementing the agreement that was made in that call."
Another reason is that ISIS is now far weaker as an organization than it was at its height, although still a long way from being truly "defeated."
Is US withdrawal from Syria a win for ISIS, Iran and Russia?
The US presence provided a forceful block to Iranian and Russian influence in the present and future Syria which is why U.S. Defense Secretary Jim Mattis and other senior national security officials have tried to dissuade Trump from a complete withdrawal, the New York Times said, urging that such a move would essentially cede foreign influence in Syria to Russia and Iran "at a time when American policy calls for challenging both countries."
A frequent defender of the president, Senior Republican Senator Lindsey Graham, also said: "An American withdrawal at this time would be a big win for ISIS, Iran, Bashar al Assad of Syria, and Russia. I fear it will lead to devastating consequences for our nation, the region, and throughout the world."
Israel vows to defend itself after US Syria withdrawal
After the US announcement, Israeli Prime Minister Benjamin Netanyahu said Israel will defend itself after the US withdraws from Syria.
"We will study its timetable, how it will be implemented and – of course – its implications for us. In any case we will take care to maintain the security of Israel and to defend ourselves in this area," Netanyahu said on Wednesday.