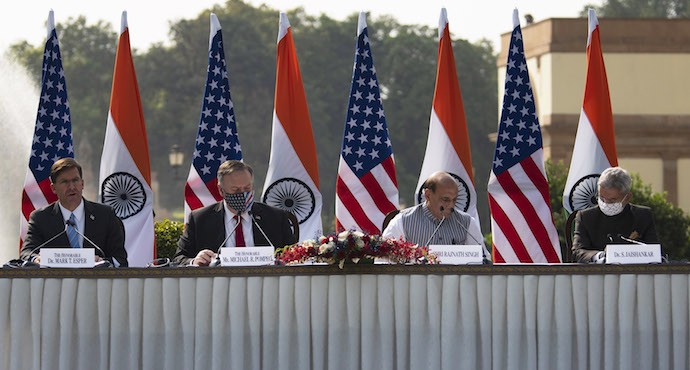 The United States and India look to deepen defense cooperation
The U.S. and India have signed a major new defense pact as the two countries look to deepen bilateral ties.
The new Basic Exchange and Cooperation Agreement (BECA) will allow New Delhi to access top-secret satellite and sensor data from Washington – an essential tool for military applications and operations.
US Secretary of State Mike Pompeo and Defense Secretary Mark Esper visited New Delhi for formal two-plus-two talks with their Indian counterparts, Foreign Minister Subrahmanyam Jaishankar and Defense Minister Rajnath Singh. Pompeo and Esper also met with Indian Prime Minister Narendra Modi.
Military-to-military cooperation
Indian Defence Minister described the agreement as "a significant move," adding that the "military-to-military cooperation" with the US was "moving forward very well." He added that the two countries "identified projects for the joint development of defense equipment… and reaffirmed commitment to peace and security in the Indo-Pacific region."
Cyber information sharing
"As the world confronts a global pandemic and growing security challenges, the United States-India partnership is more important than ever to ensure security, stability and prosperity to the region and the world," Esper said at the conclusion of the talks.
Esper called the signing of BECA important as it is the last of the foundational defense agreements between the two countries. "This enables greater geospatial information sharing between our two armed forces," he said.
The two nations are also working toward establishing new cyber and space dialogues to increase cooperation in domains where both countries face emerging threats, Esper said.
The defense ties are a pillar for the overall relationship between the United States and India.
India is also part of a group called the Quad countries — India, Japan, Australia and the United States.
The two-plus-two meeting reaffirmed America's commitment to a comprehensive and forward-looking defense partnership with India. The officials also discussed ways to expand regional security cooperation, military-to-military interactions and defense trade relationships.