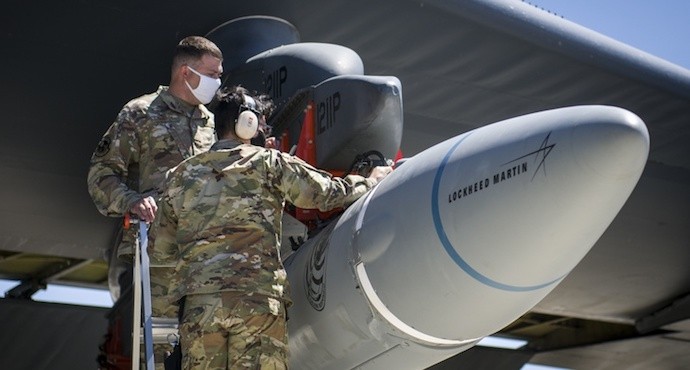 Hypersonic ARRW booster flight test fails to launch from B-52
The first booster flight test of the U.S. Air Force's AGM-183A Air-launched Rapid Response Weapon (ARRW) failed on Monday when the test weapon did not launch from the B-52 Stratofortress bomber carrying it.
The service acknowledged the failure as a "setback" for the hypersonic progress but said the test still proved valuable for the program's development.
"The ARRW program has been pushing boundaries since its inception and taking calculated risks to move this important capability forward," said Brig. Gen. Heath Collins, Armament Directorate Program Executive Officer. "While not launching was disappointing, the recent test provided invaluable information to learn from and continue ahead. This is why we test."
The missile maker Lockheed Martin did not comment on the test failure "due to the classified nature of the program."
"The weapon system is designed to provide the ability to destroy high-value, time-sensitive targets," the Air Force said. "It will also expand precision-strike weapon systems' capabilities by enabling rapid response strikes against heavily defended land targets."
The U.S. military has identified hypersonics as one of the highest priority modernization and is aiming to field offensive hypersonic weapons by the early to mid-2020s.
The U.S. Department of Defense is currently pursuing two types of hypersonic weapons technologies: boost-glide systems that place a maneuverable glide vehicle atop a ballistic missile or booster and cruise missiles that would use highspeed scramjets to travel at hypersonic speeds. The ARRW is known as a hypersonic boost-glide weapon system.