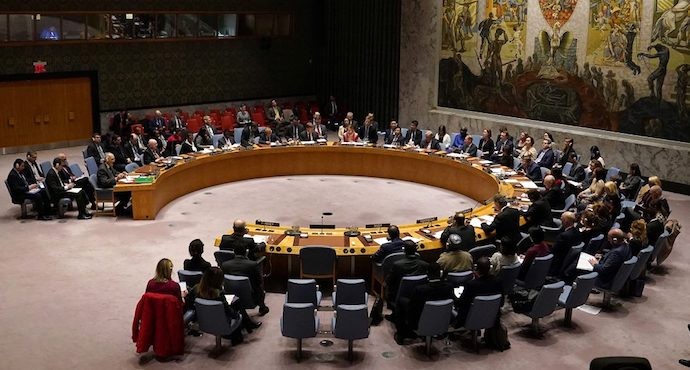 Israel committing war crimes in Gaza, Palestinian foreign minister tells UN
United Nations Security Council (UNSC) members condemned the violence in the Middle East but failed to agree on a unified position.
UN Secretary-General Antonio Guterres told the UN Security Council on Sunday that hostilities in Israel and Gaza were "utterly appalling" and called for an immediate end to the fighting.
Opening the 15-member council's first public meeting on the conflict, Guterres said the United Nations is "actively engaging all sides toward an immediate cease-fire" and called on them "to allow mediation efforts to intensify and succeed."
"Fighting must stop. It must stop immediately," he said. "Rockets and mortars on one side and aerial and artillery bombardments on the other must stop. I appeal to all parties to heed this call."
The current violence in Gaza & Israel only perpetuates the cycles of death, destruction & despair, and pushes farther to the horizon any hopes of coexistence & peace.

Fighting must stop immediately.

The @UN is actively engaging all sides towards an immediate ceasefire.

— António Guterres (@antonioguterres) May 16, 2021
The UN chief stressed that the only way forward is to return to negotiations towards a two-state solution, but the fighting is making this goal even more challenging. "This senseless cycle of bloodshed, terror and destruction must stop immediately," he said.
UN criticized for failure to adopt a unified response
Many countries have criticized the UN's failure to adopt a united stance against violence amidst Israel's aggression, including airstrikes, against Palestinians.
"Failure to adopt even a press statement on an issue that has been on the Council's agenda since almost its inception is simply unacceptable," said Feridun Sinirlioglu, Turkey's ambassador to the UN, in a written statement to the UN Security Council (UNSC).
Norway, Tunisia and China, the countries which requested an open debate of the Security Council on the escalation of the Israeli-Palestinian conflict, regretted that United States blocked the joint UN statement calling for an immediate ceasefire.
"Regrettably, simply because of the obstruction of one country, the Security Council hasn't been able to speak with one voice," Chinese Foreign Minister Wang Yi said during the virtual meeting. "We call upon the United States to shoulder its due responsibilities of taking a just position."
Israel committing war crimes in Gaza: Palestinian FM
Palestinian Foreign Minister Riyad al-Maliki has accused Israel of committing "war crimes" in its nearly weeklong offensive on Gaza as he urged international pressure at a United Nations Security Council session.
"Some may not want to use these words – war crimes and crimes against humanity – but they know they are true," al-Maliki said.
"Act now to end the aggression. Act now so freedom can prevail – not apartheid," he told the Security Council.
At least 212 Palestinians, including 61 children, have been killed in Gaza since the latest violence began more than a week ago. Around 1,500 Palestinians were also wounded.