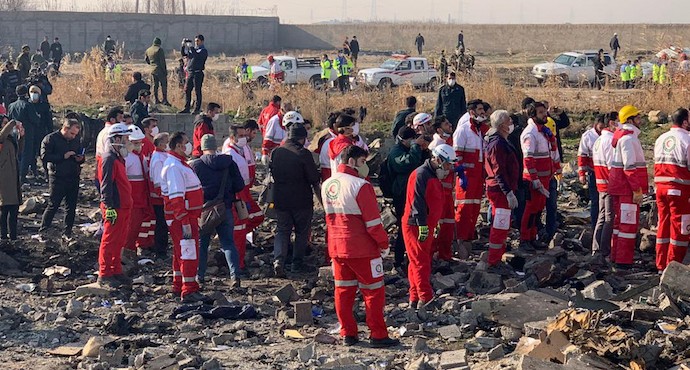 Investigators are determining the cause of the plane crash that killed all 176 people on board
A Boeing 737 jet, operated by Ukraine International Airlines, crashed minutes after take-off from Tehran on Wednesday morning, killing 176 on board.
There were 167 passengers and nine crew members on board the flight, Ukrainian Prime Minister Oleksiy Honcharuk said in a statement. Ukraine's President Volodymyr Zelensky said that there were no survivors.
"My sincere condolences to the families and loved ones of all passengers and crew members," Zelensky said.
The majority of passengers were from Iran and Canada. Ukraine's foreign minister, Vadym Prystaiko, said that there were 82 Iranians, 63 Canadians and 11 Ukrainians on board — the Ukrainian nationals included two passengers and the nine crew. There were also 10 Swedish, four Afghan, three German and three British nationals.
The tragic accident took place at a time when U.S.-Iran tensions touched new heights after Iran fired missiles at the Iraqi military bases housing U.S.-led coalition forces in retaliation for the killing of its top General Soleimani by the United States.
Ukraine, however, has refused to rule out that it was shot down but cautioned against speculation until the investigation concluded.
Earlier, Ukraine's embassy in Iran claimed that engine failure caused the plane to crash and denied that it was terror-related or that a rocket had hit the aircraft. But it was later retracted followed by a new statement announcing investigation to ascertain the cause of the crash.
Meanwhile, Iran has refused to hand over the black box to Boeing. "We will not give the black boxes to the manufacturer (Boeing) and the Americans," Iran Civil Aviation Organisation head Ali Abedzadeh said amidst rising tensions between the U.S. and Iran.
Countries whose nationals were killed in the crash
Following is information on the countries of origin the passengers belonged to:
Iran – 82
Canada – 63
Ukraine – 11 (2 crew members)
Sweden – 10
Afghanistan – 4
Germany – 3
United Kingdom – 3