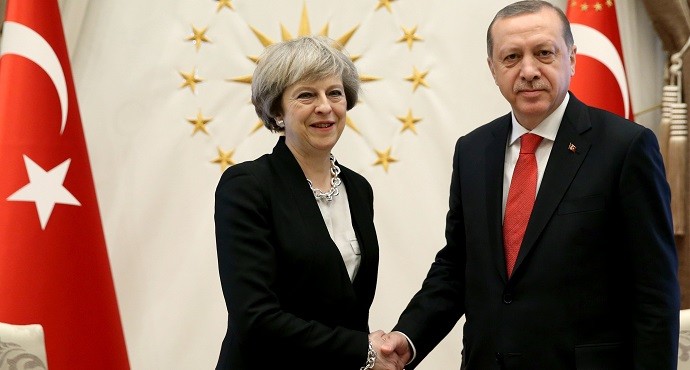 The deal would pave the way for the U.K. to provide future engines, weapons radars and sensors to Turkey
Britain and Turkey have agreed to a £100 million ($125.5 million) defense deal that Downing Street hopes will lead to Britain becoming Turkey's main defence partner.
The agreement to jointly build fighter jets was signed during British Prime Minister Theresa May's visit to Ankara on Saturday.
Theresa May is the first foreign leader to visit Turkey since Recep Tayyip Erdogan ordered a wave of arrests and sackings in the wake of last year's coup.
British Prime Minister said she and Turkish President Recep Tayyip Erdogan were deepening their defense links, amid criticism at home that she is putting trade ahead of concerns about the rule of law in Turkey.
"This agreement underlines once again that Britain is a great, global trading nation and that we are open for business," Mrs. May said. "It marks the start of a new and deeper trading relationship with Turkey and will potentially secure British and Turkish jobs and prosperity for decades to come."
The deal between Britain's BAE Systems and Turkish Aerospace industries would see British weapons maker help design Turkish jets and will pave the way for the U.K. to provide future engines, weapons radars and sensors to Turkey, Downing Street said.
Erdoğan said that Turkey and the UK would continue to be in solidarity as NATO two members. Erdoğan also said Turkey and Britain would take an important step on Turkey's TF-X fighter jet project.
Speaking on Turkey-UK economic relations, President Erdoğan expressed his aim to increase Turkey's $15.6 billion of trade volume with UK to $20 billion. Erdoğan reminded that the first step for a strategic partnership between the two countries was taken in 2010, and underlined that cooperation in the energy sector was also possible in addition to defense industry.
A spokeswoman for Mrs. May said Turkey is an important partner in the North Atlantic Treaty Organization military alliance and that it is in the U.K.'s national interest to engage with Ankara. She added that Britain has "been clear that we urge Turkey to ensure that their response is proportionate, justified and in line with international human rights obligations."