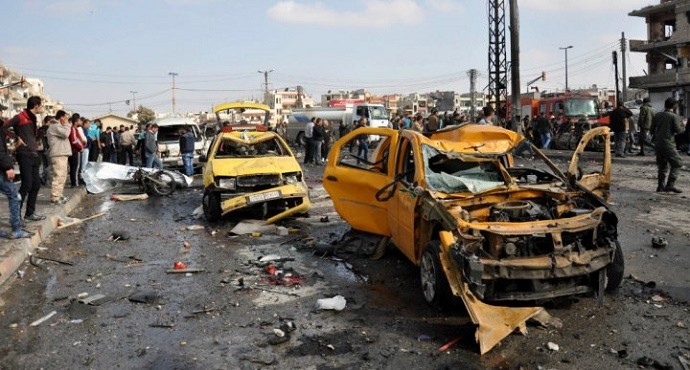 Syrian Observatory said the attacks, which hit the city's central Zahra district, were among the biggest blasts to hit a government-held area in Homs in the 5-year-old civil war.
At least 46 people were killed in car bomb blasts that hit Syria's Homs on Sunday in one of the deadliest such attacks in the city in five years of civil war, a monitoring group said. Most of those killed are civilians.
The state media also confirmed the explosions which also wounded at least 100 others in the city center's Zahra district, the Britain-based Syrian Observatory for Human Rights said.
The Britain-based Syrian Observatory for Human Rights said most of those killed appeared to be civilians, and that the toll could rise further because of the number of wounded with serious injuries.
Homs provincial governor Talal Barazi gave AFP an initial toll of 17 dead and 29 wounded in the blasts. Syrian state television broadcast footage from the scene of the attack in the Al-Zahraa neighbourhood, showing the air thick with dust and smoke rising from blazes started by the blasts.
State television broadcast footage from the scene, showing emergency workers carrying a charred body on a stretcher past shops shorn of their fronts and mangled cars and minibuses.
Firefighters ran through debris strewn by the explosions as security forces and civilians tried to prise open the wreckage of one vehicle to retrieve a person inside. Nearby, a charred body was carried away on a stretcher by emergency services workers.
Homs city has regularly been targeted in bomb attacks, including last month when a double bombing claimed by the Islamic State group killed 22 people in Al-Zahraa neighbourhood.
The latest fighting in the north of the country has displaced tens of thousands of people, many of whom headed for the Turkish border. The exodus added to more than 11 million already displaced by the conflict that has claimed 250,000 lives.
The bombings came as international powers worked for a cessation of hostilities, despite missing a proposed Friday start date.
On Sunday, Kerry said he had spoken earlier with his Russian counterpart Sergei Lavrov and agreed an initial basis on how to implement a ceasefire.
"We have reached a provisional agreement, in principle, on the terms of the cessation of hostilities that could begin in the coming days," Kerry said in Amman.
World powers proposed the truce just over a week ago as part of a plan that also included expanded humanitarian access, in a bid to pave the way for the resumption of new peace talks.