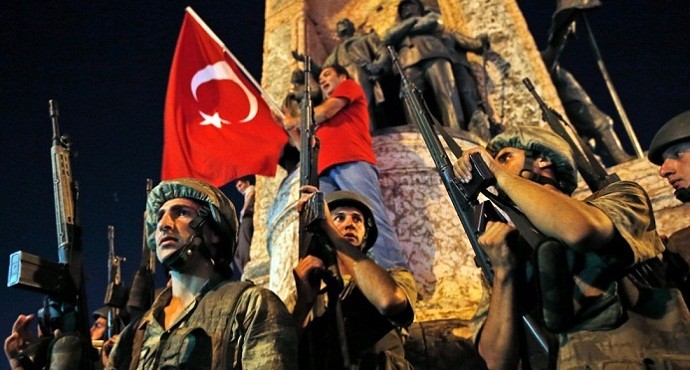 Turkey's coup attempt crushed as 260 died and 2,800 detained
Europe, News
July 16, 2016
1 Comment
Turkish government says it will consider reintroducing death penalty for military 'traitors' after uprising left 161 civilians and officials dead
Turkish authorities have now regained control of the country on Saturday after crushing an attempt by a group of military to seize power from President Recep Tayyip Erdogan.
A faction of the armed forces tried to seize power by rolling tanks into main Istanbul city and helicopter firing at terrified people on Friday. Military personnel also seized headquarters of Turkish intelligence and parliament while huge blasts continued to ring out in Ankara, and Istanbul, including a bomb that hit the parliament complex.
Coup leaders said they have seized control of Turkey to maintain democratic system. "Turkish Armed Forces have completely taken over the administration of the country to reinstate constitutional order, human rights and freedom," the statement said.
However, several hours later, a government spokesperson said the coup had been defeated. As Turkish people responded to President Tayyip Erdogan's call to take to the streets to support him, forcing rebel soldiers to abandoned their tanks in Istanbul.
Erdogan soon landed in Istanbul which signaled the stable security situation in the country.
Turkish Prime Minister Binali Yildirim said at least 260 people died, including 161 civilians and government officials and more than 2,839 soldiers have been detained as government foiled the coup attempt. Another 1,400 people were wounded in the chaos.
"Turkey has a democratically elected government and president," Erdoğan said after landing. "We are in charge and we will continue exercising our powers until the end. We will not abandon our country to these invaders. It will end well."
Many soldiers involved in the coup surrendered after dawn on Saturday, abandoning their tanks with their hands raised in the air.
Turkish PM Yildirim told public television that while the death penalty is not permitted under the Turkish constitution, they will consider legal changes "to make sure this does not happen again."
Why did the coup failed?
According to Ömer Taşpınar, senior fellow in Brookings Center and an expert on Turkey, the coup failed because it was an "attempt by mid-rank officers who were unable to establish chain of command or unity of command. The top brass of the Turkish army did not support the coup. It was an unprofessional, unorganized, botched coup attempt."
Eight men landed in a Turkish military helicopter at the Greek city of Alexandroupolis to claim political asylum, a Greek police report said. Turkey, however, has demanded for the return of the "traitors".
Hulusi Akar, the Turkish military's chief of staff, has been rescued after he was allegedly held hostage by rebel soldiers overnight.
Who was responsible for the coup?
Factions within the military carried out the attempted coup. The leader is not yet known, but the prime minister said colonels were involved.
Turkish military did not appear unified in their endeavor, with top commanders taking to television, condemning the action and order troops back to their barracks.
The authorities in Turkey blamed the conspiracy on Erdogan's arch enemy, the US-based cleric Fethullah Gulen. "Those who are attempting a coup will not succeed. Our people should know that we will overcome this," General Zekai Aksakalli, the commander of the military special forces, told the private NTV television.
A lawyer for the Turkish government says "there are indications of direct involvement" in the coup attempt of a cleric who is living in exile in Pennsylvania.
Turkish people take to streets to protest coup attempt
Turkish people took the streets across Turkey to protest against an attempted military coup after a video message from President Recep Tayyip Erdogan which said: "I am calling on our nation. Go to the squares, let us give them the best answer."
People chanted slogans as "No coup" and gathered in public squares and streets in Ankara, Istanbul, Diyarbakir, Edirne, Hatay, Yalova, Erzurum, Izmir, Malatya, Eskisehir, Adana and several other provinces to protest the military uprising.
In Ankara, people gathered in Kizilay Square located in the city center and tried to stop tanks by throwing stones and sticks.