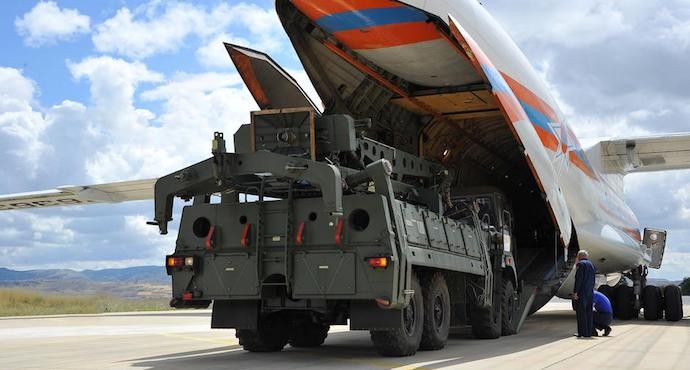 Turkey purchased sophisticated S-400 missile systems from Russia, despite warnings from Washington and NATO allies
Delivery of S-400 missile systems continues as the seventh Russian cargo planes landed at Murted Airbase outside Ankara on Sunday, Turkish National Defense Ministry said on Sunday. It said two more planes were expected within hours.
Delivery of S-400 Long Range Air and Missile Defense Systems is continuing as planned, the ministry said on Twitter.
The deliveries for the Russian-made defense system has caused a rift between Turkey and the United States.
The United States has repeatedly warned it will impose economic sanctions and expel Turkey out of the F-35 stealth fighter jet program if Ankara does not drop its S-400 purchase.
Turkey, however, emphasized that the S-400 purchase is a matter of national sovereignty.
Turkey's acquisition of Russia's S-400 surface-to-air missile defence systems is a "necessity" and not a "preference", the country's defence minister Hulusi Akar told his US counterpart Mark Esper.
During the telephonic conversation, Akar told Esper that Turkey is looking at the US' proposal to purchase the latter's Patriot air defence systems, Anadolu News Agency reported.
"Deterioration of Turkish-U.S. ties serves neither Turkey, the U.S. nor NATO's interests," Akar added.
In December 2017, Moscow and Ankara signed a loan agreement for the delivery of the S-400 air defence systems to Turkey.
Later, the U.S. urged Turkey to buy its Patriot missile system, arguing that the Russian system would be incompatible with NATO systems. Washing5ton fears that the Russian S-400 system could be used by Moscow to gain sensitive data on the fifth-generation jets.
Turkey, however, emphasized that the S-400 would not be integrated into the NATO systems and hence would not pose any threat to the alliance.
S-400
The S-400 'Triumf' is the most advanced long-range air defense missile system that went into service in Russia in 2007. It is designed to destroy aircraft, cruise and ballistic missiles, including medium-range missiles, and can also be used against ground installations. The S-400 can engage targets at a distance of 400 km and at an altitude of up to 30 km.