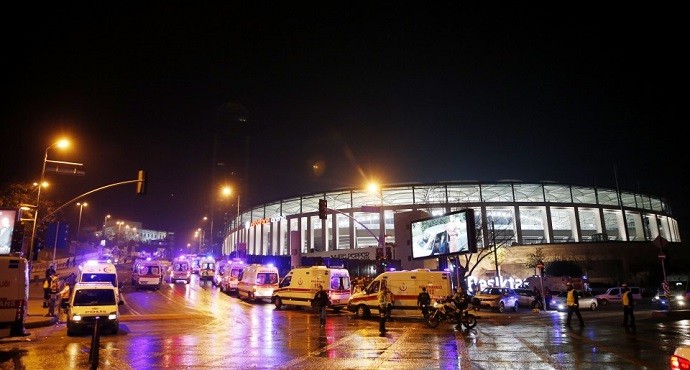 Turkey Bombings: 29 killed, 166 wounded near Istanbul soccer stadium
Europe, News
December 11, 2016
No Comments
Day of mourning declared in Turkey after twin blasts kill 29 outside Istanbul football stadium
Two explosions near a football stadium in Turkey's biggest city, Istanbul, have killed 29 people, mostly police personnel, and wounded more than 160 others, according to Turkish authorities.
The first bomb went off just outside the facility known as Besiktas Stadium after the local team and neighborhood. The second blast that came moments later was attributed by authorities to a suicide bomber.
The bombs targeted police officers, killing 27 of them along with two civilians, Turkey's Interior Minister Suleyman Soylu told reporters early Sunday. He added that 10 people had been arrested in connection with the "terrorist attack."
The civilian death toll was lower because fans had already left the newly built Vodafone Arena Stadium after the soccer match when the blasts occurred. Witnesses also heard gunfire after the explosions.
Turkey has declared a national day of mourning after twin blasts in Istanbul. The statement from Prime Minister Binali Yildirim's office also ordered flags to fly at half-staff across the country and at Turkey's foreign missions.
"We have once again witnessed tonight in Istanbul the ugly face of terror which tramples on every value and decency," Turkish President Recep Tayyip Erdogan said in a statement.
"It was like hell. The flames went all the way up to the sky. I was drinking tea at the cafe next to the mosque," said Omer Yilmaz, who works as a cleaner at the nearby Dolmabahce mosque, directly across the road from the stadium.
"People ducked under the tables, women began crying. Football fans drinking tea at the cafe sought shelter, it was horrible," he told Reuters.
Aleksander Ceferin, president of European soccer's governing body UEFA, and European Union Enlargement Commissioner Johannes Hahn, also made statements condemning the attack.
"Violence has no place in a democratic society," Hahn wrote on Twitter.
EU foreign policy chief Federica Mogherini expressed the bloc's "solidarity with Turkish citizens'.
Deadly attacks in Turkey this year
20 August: Bomb attack on wedding party in Gaziantep kills at least 30 people, IS suspected
30 July: 35 Kurdish fighters who try to storm a military base are killed by the Turkish army
29 June: A gun and bomb attack on Ataturk airport in Istanbul kills 41 people, in an attack blamed on IS militants
13 March: 37 people are killed by Kurdish militants in a suicide car bombing in Ankara
17 February: 28 people die in an attack on a military convoy in Ankara