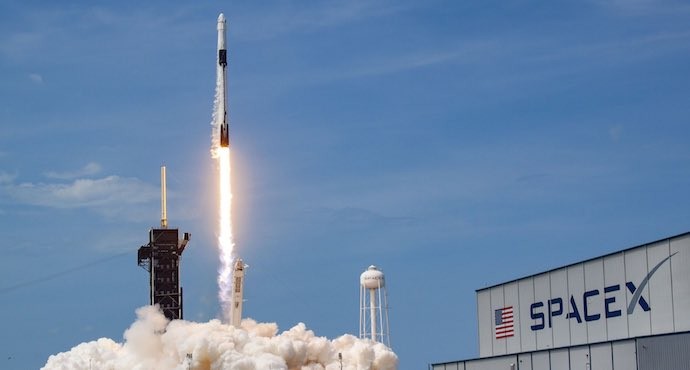 SpaceX begins historic human flight with NASA astronauts launch
News, US
May 31, 2020
No Comments
NASA and SpaceX make history by launching American astronauts into space
For the first time in history, NASA astronauts have launched from American soil in a commercial spacecraft developed by a private company, SpaceX.
The SpaceX Crew Dragon spacecraft is carrying NASA astronauts Robert Behnken and Douglas Hurley to the International Space Station. The flight lifted off from Falcon 9 rocket from Launch Complex 39A at NASA's Kennedy Space Center in Florida.
"This is a dream come true for me and everyone at SpaceX," said Elon Musk, chief engineer at SpaceX. "It is the culmination of an incredible amount of work by the SpaceX team, by NASA and by a number of other partners in the process of making this happen."
Falcon 9 lifts off from historic Launch Complex 39A and sends Crew Dragon to orbit on its first flight with @NASA astronauts to the @space_station pic.twitter.com/UOoaKiQaFk

— SpaceX (@SpaceX) May 31, 2020
The spaceflight is the first in nearly nine years to have launched from US soil and into orbit.
"Today a new era in human spaceflight begins as we once again launched American astronauts on American rockets from American soil on their way to the International Space Station, our national lab orbiting Earth," said NASA Administrator Jim Bridenstine.
He termed the historic flight an important step"to expand human exploration to the Moon and Mars" he added.
The mission, called NASA's SpaceX Demo-2, is an end-to-end test flight to validate the SpaceX crew transportation system, including launch, in-orbit, docking and landing operations.
Liftoff! pic.twitter.com/DRBfdUM7JA

— SpaceX (@SpaceX) May 30, 2020
Demo-2 is the final major test for SpaceX's human spaceflight system to be certified by NASA for operational crew missions to and from the International Space Station.