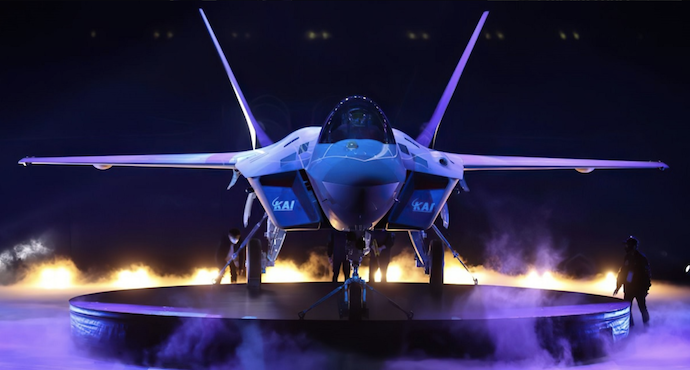 South Korea hails prototype of new fighter jet as entering into 'new era' of self-reliance in defense industry
South Korea has unveiled a prototype of the country's first indigenous fighter jet, ushering into a new era of the indigenous aerospace industry.
President Moon Jae-in said the new aircraft will become the backbone of the South Korean Air Force, defining it as "a new era" and a "landmark" moment in the history of the country's aircraft industry.
South Korea will be the 13th country in the world to develop its own fighter jet once the first flight takes place.
The KF-21 Boramae (Hawk) aircraft was showcased at a rollout ceremony held at the Korea Aerospace Industries (KAI) headquarters five years after South Korea began the 8.8 trillion won (US$7.9 billion) program to replace its aging fleet of F-4 and F-5 jets in late 2015.
The 4.5-generation fighter jet is not a stealth aircraft, but experts said they would research and explore a possible conversion with additional features in the future.
"The prototype rollout is a major step in the development process as it means we are entering the phase of testing the fighter's capabilities after actually building what we only had in drawing," the arms procurement agency said in a release.
The country expected to produce six KF-21 prototypes for testing and development, the first three to be completed by the end of this year and the other three in the first half of 2022.
Technology
"KF-21 is the first fighter aircraft made with domestic technology, and it indicates that South Korea is now able to build fighter aircraft on its own" the country's Defense Acquisition Program Administration (DAPA) said."It will also be a stepping stone to develop better fighter aircraft and operate locally developed arms."
The key local Korean technologies include the active electronically scanned array (AESA), infrared search and tracking system, electro-optical targeting pod, and electronic warfare suite. At least 65 percent of over 30,000 parts used in the prototype aircraft are made in Korea.
Korea seeks to become one of the top seven aviation powerhouses in the 2030s and the project is aimed at strengthening the country's technological independence in aircraft engines and other core technologies, Moon said. Nearly 719 Korean businesses have participated in the development of the KF-21.
South Korea-Indonesia collaboration
The launch ceremony was also attended by Indonesian Defense Minister Prabowo Subianto and other representatives from Indonesia as the country is a partner for the development project.
South Korea and Indonesia agreed in 2014 to jointly develop the fighter jet.  Indonesia has agreed to fund 20 percent of the total development cost and plans to acquire 50 planes for its air force and is also seeking technology transfers.
Indonesian President Jokowi congratulated South Korea on the progress and expressed hope for future defense cooperation between the two countries.
Cost
KF-21 is expected to cost $65 million per unit. It will have low operational costs and ease of maintenance.
It took Lockheed Martin almost 20 years and nearly $59.2 billion to develop F-35 fighter jets whereas KAI project initiated in January 2016 came up with a prototype in five years with a budget of less than one-sixth as compared to F-35, Korea Herald claims.
KF-21 specifications
KF-21 a 4.5-generation multirole fighter jet.
It is a single-seat aircraft but there will be also a two-seater variant.
With a maximum payload of 7,700 kilograms, the new warplane will have 10 pods for air-to-air missiles and other weapons.
It will be capable of flying at 2,200 kph with a flying range of 2,900km.
The first flight test is scheduled for 2022.
Mass production will begin after final tests. South Korea plans to deploy 40 KF-21s by 2028 and another 120 by 2032.
우리가 독자개발한 한국형 차세대
전투기 'KF-21'의 시제기가 드디어
늠름한 위용을 드러냈습니다.
우리가 우리의 기술로 만든 우리의
첨단전투기입니다. 이제 지상시험과
비행시험을 마치면, 본격적인 양산에
들어갑니다. 2028년까지 40대,
2032년까지 모두 120대를 실전에
배치할 계획입니다. pic.twitter.com/kmXUuwWBRV

— 문재인 (@moonriver365) April 9, 2021