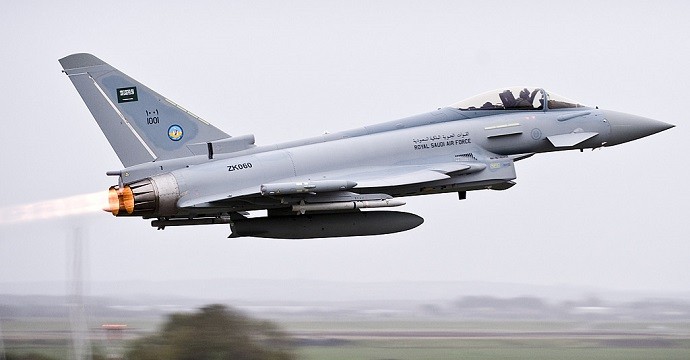 Saudi Arabia on Thursday deployed its vast array of fighter jets to bomb Houthi targets in Yemen, in an offensive known as "Operation Decisive Storm."
The three primary jet fighters used in the offensive are European-made Eurofighter Typhoons, U.S.-made F-15s, and UK-made Tornados.
Introduced in 1988, The F-15 has been deployed for military operations in much of the Middle East, including Iraq, Afghanistan, and Libya. Saudi's air force has the largest fleet of F-15 fighters after the U.S. and Japan, with a stock of 152 of the Strike Eagle variant.
In 2009, Saudi air force F-15s, along with Tornados, bombed Houthi targets in northern Yemen.
In 2011, the Typhoon saw its first combat role in Libya, when Britain and Italy bombed military targets of Libyan leader Muammar Qaddafi's regime. In February this year, Saudi Typhoons attacked Islamic State of Iraq and Syria (ISIS) militant targets over Syria. The Saudi air force keeps a stock of 42.
First flown by the Saudi air force in 1989, Tornados saw action in the Gulf War, when the kingdom joined the coalition to kick Iraqi President Saddam Hussein's forces out of Kuwait. The Saudi air force keeps a stock of 80.
Saudi and Egyptian warships were also deployed to the Bab al-Mandab strait off Yemen to secure the strategic sea passage, Egyptian military officials said, as a Saudi-led coalition widened their airstrikes on the second day of an air campaign against Shiite rebels and their allies, aiming to pave the way for possible ground operations.
A top priority for the campaign after the air campaign was weakened the rebels is for coalition troops -likely Egyptians – to move into the southern port city of Aden, a main stronghold of supporters of President Abed Rabbo Mansour Hadi, who was forced to leave the country as the rebels and their allies moved on Aden, Yemeni and Egyptian military officials said.
A high-level delegation from Pakistan was traveling to Saudi Arabia on Friday to hold talks on Yemen, following a meeting in Pakistan chaired by Prime Minister Nawaz Sharif to assess the situation.
"If the sovereignty or territorial integrity of Saudi Arabia is threatened, Pakistan will defend it," Pakistani Defense Minister Khawaja Muhammad Asif told parliament in remarks carried live on state-run television. He said there had been no decision to take part in the Yemeni conflict.