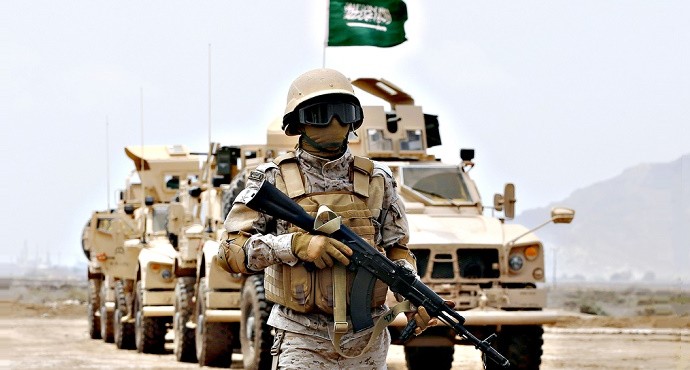 North Thunder war games have been termed as largest military exercise by Arab and Islamic states in the region since the Operation Desert
RIYADH (Saudi Arabia) – Saudi Arabia concluded on Thursday a major joint military exercise of 20 countries termed as the North Thunder that aimed at unifying armed tactics for the region's stability.
King Salman bin Abdulaziz Al-Saud patronised the drill at the King Khalid Military City in the northern province in Hafr Al-Batin reported Saudi online newspaper Sabq.
The 12-day "Northern Thunder" drill has been dubbed the largest military exercise in the region since the Operation Desert which was launched in 1991.
Leaders of GCC countries, Arab and Islamic countries were also present to witness the conclusion of exercises in Hafr Al-Batin where the event took place.
Speaking at an earlier this week, Brigadier General Ahmed Asiri explained that 20 Arab and Islamic countries took part in a number of tasks, including exercises aimed at encouraging cooperation between the various forces. He added that the training also included exercises on how to combat guerrilla warfare, noting that the tactic is used by armed militias intervening in Arab states, such as Syria and Yemen.
Asiri said the alliance brought together Arab and Islamic forces to gain experience and they would be prepared to protect the region's stability if needed.
The closing maneuver of North Thunder military exercise was attended by a number of presidents, princes, ministers, ambassadors from all 20 participating countries.
The dignitaries who attended the closing ceremony include: Emir of Kuwait Sheikh Sabah Al-Ahmad Al-Jaber Al-Sabah; Emir of Qatar Sheikh Tamim bin Hamad Al Thani; Egypt's President Abdel Fattah Al-Sisi; Sudan's President Omar Hassan Al-Bashir; Senegal's President Macky Sall, Chad's President Idriss Deby Into, Mauritania's President Mohamed Ould Abdel Aziz, Djibouti's President Ismail Omar Guelleh, Comoros President Dr. Ikililou Dhoinine; Yemen's President Abd Rabbo Mansour Hadi; UAE's Vice-President and PM Sheikh Mohammed bin Rashid Al Maktoum; Pakistan's Prime Minister Nawaz Sharif; Moroccan PM Abdulilah Benkirane; Crown Prince, Deputy Supreme Commander and first Deputy Prime Minister of the Kingdom of Bahrain Prince Salman bin Hamad Al Khalifa; Deputy Prime Minister of Mauritius Shaukat Sudhn; Omani Defense Minister Sayyid Badr bin Saud bin Hareb AlBusaidi; Minister of Defense and National Security of Maldives Adam Sharif; Prince Faisal bin Al-Hussein and Personal Representative of the President of Republic of Tunisia Al-Azhar Al-Karoui Chebbi.
Pakistan's Chief of Army Staff (COAS) Raheel Sharif; Brunei's Commander of Armed Forces Major General Baheen Muhammad Tawih; Turkish Minister of National Defense Ismet Yilmaz; Malaysian commander of the Armed Forces Zulkifeli bin Mohamed Zain, and Minister of defense and National Security of Maldives Adam Sharif also graced the occasion.
At least 20 countries from Arab and Islamic countries participated in the North Thunder war games in the northern region of the kingdom. The participating countries are Saudi Arabia, UAE, Bahrain, Kuwait, Qatar, Oman, Jordan, Senegal, Sudan, Maldives, Morocco, Pakistan, Chad, Tunisia, Comoro Islands, Djibouti, Malaysia, Egypt, Mauritania, and Mauritius.
The equipment at the war games reflected the quantitative and qualitative weapons the forces will be using will include fighter jets of different models, a wide range of artillery, tanks, infantry, air defence systems, and naval forces.
The exercise was termed as "the largest military gathering of 20 Arab and Islamic states" by the Chief of General Staff and Commander of the Exercise General Abdulrahman bin Saleh Al-Bunyan.
He described the exercise as one of the largest military exercises in the region terms of the number of participating troops and the widening zone of military operations that cover the presumptive theater of northern region operations, which coincides with implementation of the field exercise in the sectors of operational responsibility of the northern border to be followed tomorrow by a military parade of all participating countries.
General Al-Bunyan pointed out that the exercise aimed at boosting the unity of ranks, warding off the dangers facing Arab and Islamic nations, maintaining the security and stability and raising the levels of combating readiness.