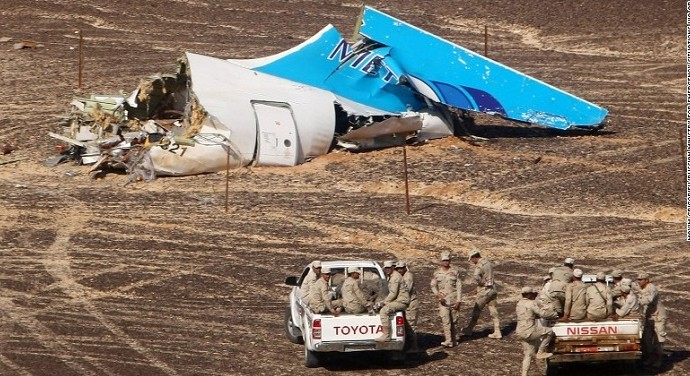 Russia says crash was 'unequivocally a terrorist act'
Russia's Federal Security Service (FSB) said on Tuesday that the Russian passenger plane that crashed in Egypt's Sinai last month killing all 224 aboard was blown up by a homemade bomb.
"FSB and law enforcement agencies of the Russian Federation are taking measures to detect the people involved in the crime," he said, according to the TASS news agency.
Alexander Bortnikov, the FSB's chief, told Russian state media that "traces of foreign explosives" were found in debris recovered from the crash site.
"We can say that that [Sinai plane crash] was a terror act," Bortnikov told Putin. According to the FSB chief, experts analyzed passengers' belongings as well as the parts of the plane. "After the examination on all these objects, we have found traces of a foreign-made explosive substance," Bortnikov said.
"During the flight, a homemade device with the power of 1.5 kilograms of TNT was detonated. As a result, the plane fell apart in the air, which can be explained by the huge scattering of the fuselage parts of the plane," he added.
Putin vows to find and punish the culprits behind the Sinai plane attack
This not the first time that Russia has faced "barbarous terrorist crimes, more often without apparent causes, outside or domestic, as it was with the explosion at the railway station in Volgograd at the end of 2013," He added: "We haven't forgotten anything or anyone. The murder of our nationals in Sinai is among the bloodiest crimes in [terms of] the number of casualties."
But Russia won't be "wiping tears from our soul and heart," he said. "This [tragedy] will stay with us forever. But this won't stop us from finding and punishing the culprit."
Vladimir Putin has vowed to find and punish the culprits behind the Sinai plane attack. "Our military work in Syria must not only continue. It must be strengthened in such a way so that the terrorists will understand that retribution is inevitable," he said.
Russia offers $50 million reward in Sinai jet crash case
The Federal Security Service director also announced a reward of $50 million for information on those behind the terror attack on the A321.