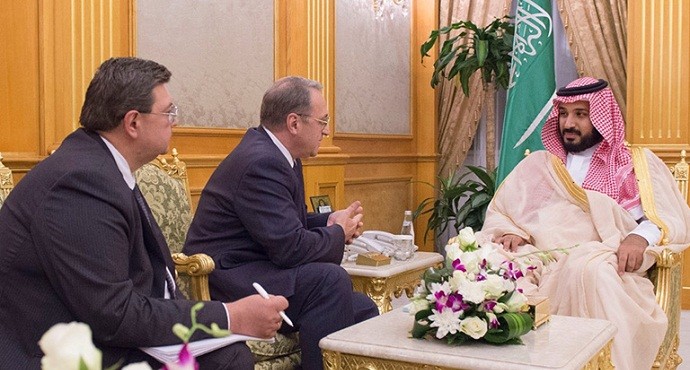 Russian and Saudi Arabian senior officials discussed a wide range of issues related to further development of the bilateral relations.
JEDDAH (Saudi Arabia) – Moscow and Riyadh are looking forward to consolidate efforts in the fight against terrorism.
The representatives of both countries discussed the ongoing military-political and humanitarian situation in Syria, Yemen and Palestinian lands with emphasis on political settlement to end violence and assistance to of conflicts in the Middle East region.
The news was announced following the meetings of the Russian presidential special envoy for the Middle East and Africa and Deputy Foreign Minister Mikhail Bogdanov with Saudi Arabia's Deputy Crown Prince and Defense Minister Mohammed bin Salman al Saud and Saudi Foreign Minister Adel al-Jubeir in Jeddah.
In a move to resolve Middle Eastern conflicts, both Russia and Saudi Arabia are inclined to conciliate their positions, both bilateral and within various international platforms.
The bilateral meeting was attended by Russia's Dmitri Dogadkin, head of Middle East department at the Foreign Ministry; Riyadh Maxim Khorchov, charge d'affaires in Riyadh, and Bahauddin Olleaq, consul general in Jeddah. On the Saudi side, the meeting was attended by Ali Al-Hamdan, director of Arab department at the Foreign Ministry and Khalid Al-Anqari, director general of the minister's office.
According to diplomatic sources in Jeddah, the meeting with the prince took place on Sunday at the Al-Salam Palace, where they discussed the way to coordinate a strategy on regional issues.
In addition to analyzing bilateral issues and the interest in relaunching relations, the representatives of Moscow and Riyadh made emphasis on conciliating their positions by expanding bilateral political contacts, the newspaper Asharq Al-Awsat reported.
"The detailed discussions highlighted a broad range of issues pertaining to further progress of Russian-Saudi relations, including acceleration of political contacts and boost of mutually advantageous cooperation in the economic, energy, investment, humanitarian and other fields," it said.
"The sides focused on a frank and detailed exchange of opinions and ideas about the ongoing military-political and humanitarian situation in Syria, Yemen and Palestinian lands. An emphasis was put on the need for the soonest end to violence and assistance to the political settlement of conflicts in the region on the existent international legal grounds, and the task of consolidating approaches in the interests of the efficient fight against the universal terrorist threat," the report said.
Both sides confirmed their mutual wish to continue rapprochement and coordination on multilateral platforms, including "the Russian-Arab Cooperation Forum and the strategic dialogue between Russia and the Gulf Cooperation Council, in order to search for optimal solutions to conflicts in the Middle East and North Africa" the representative of the ministry said, adding that "the provisions of the UN Charter, principles of international law and respective resolutions of the UN Security Council are a reliable basis for this work."