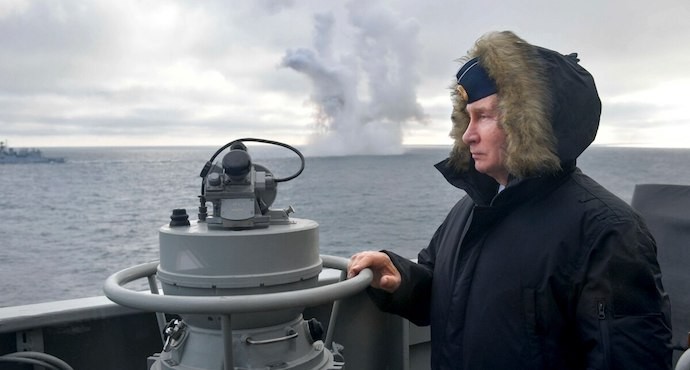 Russia's Vladimir Putin oversees hypersonic missile test near Crimea
Russian President Vladimir Putin on Thursday oversaw a naval exercise in the Black Sea that involved multiple missile launches including a new hypersonic missile system, Kinzhal.
Putin watched the maneuvers from the Marshal Ustinov missile cruiser, the Kremlin said.
During the Black Sea drills, Russia's Black Sea Fleet and Northern Fleet practiced the launch of Kalibr cruise missiles and the hypersonic air-launched ballistic missile launched by MiG-31 fighter jets.
"The drills have been held successfully," according to the Commander-in-Chief of the Russian Navy Admiral Nikolai Yevmenov.
More than 30 ships, 1 submarine and over 40 aircraft, including several Tu-95 strategic bombers, took part in the drills.
https://twitter.com/IRIA_Research/status/1215710274537132034
"The navy always has been a key component of national defense," Putin said. "We will maintain and strengthen our nation's status as a key naval power."
Russia deployed its first hypersonic nuclear-capable missiles at the end of December. Objects traveling faster than five times the speed of sound, or Mach 5 or 3836 mph, qualify as "hypersonic,"
The Russian naval maneuvers come amid heightened U.S.-Iran tensions after the U.S. strike last week that killed Iran's most powerful military commander.