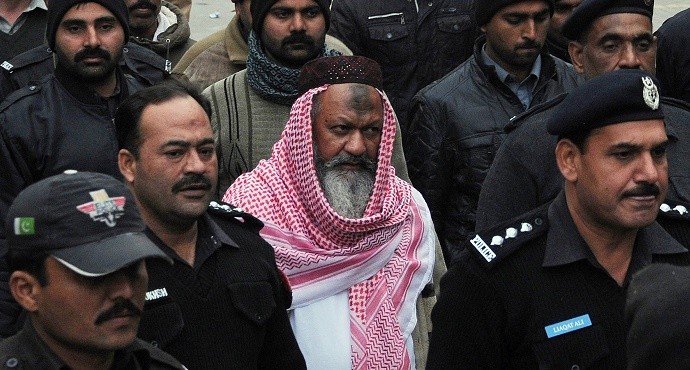 LAHORE (Pakistan) – Malik Ishaq, leader of a banned extremist group Lashkar-i-Jhangvi, his two sons Usman and Haq Nawaz, and 11 attackers were killed in an alleged exchange of fire with police personnel late on Tuesday night,  the Pakistani authorities said.
Ishaq and his sons were arrested by the Counter-Terrorism Department (CTD) a week ago. Following their recent arrest, the police had interrogated them and had subsequently taken them to Shahwala in Punjab's Muzaffargarh district to aid the police in recovering weapons and explosives, sources in the CTD said.
The encounter appears to have taken place as militants attacked security forces and tried to free Ishaq who was killed in the ensuing exchange of fire, security sources say.
A spokesman for CTD Multan said Ishaq, his two sons, one Ghulam Rasool Shah and two other accused, all from Lashkar-i-Jhangvi, were taken to Muzaffargarh by the counter-terrorism department to aid in the recovery of arms and explosives.
The spokesman said that when the police party was returning after making the recovery, it was attacked by some 12 to 15 gunmen who succeeded in freeing Ishaq, his sons and the other accused and fleeing away on motorcycles.
The militants were met with by SHO CTD police station who had quickly been informed about the attack on the police party and was travelling on the route that the militants had taken, the spokesman said, adding that that's how the encounter ensued.
At least six policemen were injured in the encounter.
The sectarian outfit is believed to have killed hundreds of Pakistani Shiites in a series of bombings. Lashkar-e-Jhangvi has claimed responsibility for the deaths of hundreds of Shiites, including two bombings in the western city of Quetta in early 2013 that killed nearly 200 people. Additionally, Mr. Ishaq was accused of having masterminded a 2009 attack on Sri Lanka's cricket team in the eastern city of Lahore.
Ishaq was under investigation for the murder of dozens of people in target killings and for working with Taliban and Al-Qaeda militants.