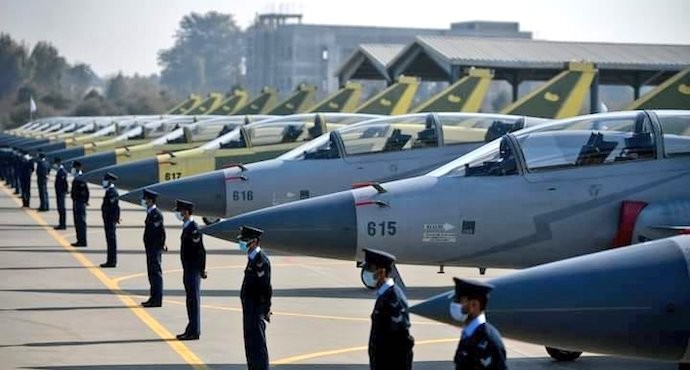 Pakistan Air Force gets latest fighter jets and also begins production of multirole fighter aircraft JF-17 Thunder Block III
Pakistan Air Force (PAF) inducted the JF-17 Thunder Block II dual-seater fighter aircraft into its fleet and also launched announced the production of Block III of the same aircraft to boost its air power.
The Block III is the "most advanced JF-17 variant and represents the cutting edge aerospace technology" which will significantly improve PAF's air defense capabilities.
Pakistan's air chief commended the efforts of Pakistani engineers who completed this year's production targets despite COVID-19 challenges. He also hailed the collaboration between the aviation industries of Pakistan and China.
The newly inducted dual-seat JF-17 aircraft are "fully mission capable for the entire spectrum of combat operations and will boost PAF's operational readiness besides fulfilling the training needs of PAF" the official statement said.
The production of new fighter jets is part of PAF's modernization program to bring Pakistan's air fleet at par with its arch-rival, the Indian Air Force, which has more than 2,000 aircraft as compared to the PAF's current strength of over 900 aircraft and helicopters. India this year received the first batch of five Rafale jets from France after years of delay.
Country's first 4.5 generation jet
Pakistan's Air Chief Marshal Mujahid Anwar Khan inaugurated the Block III production facility in Kamra on December 30, 2020, together with the Chinese Ambassador Nong Rong. The Block III has been described as Pakistan's first 4.5-generation multi-role fighter.
Key features of Block III
The jet's multi-roles include use as a JF-17 conversion trainer, Lead-In Fighter Trainer (LIFT), reconnaissance aircraft and ground-attack aircraft. The advanced fighter jet will include:
Active electronically scanned array (AESA) radar
Integrated electronic warfare (EW) and self-protection suite,
Helmet mounted display (HMD) system, and other essentials.
JF-17 Thunder aircraft
JF-17 Thunder is a single-engine, lightweight, multipurpose combat aircraft, jointly developed by the Pakistan Aeronautical Complex (PAC) of Pakistan and Chengdu Aircraft Industry Corporation (CAC). PAF currently operates around 100 JF-17 jets.