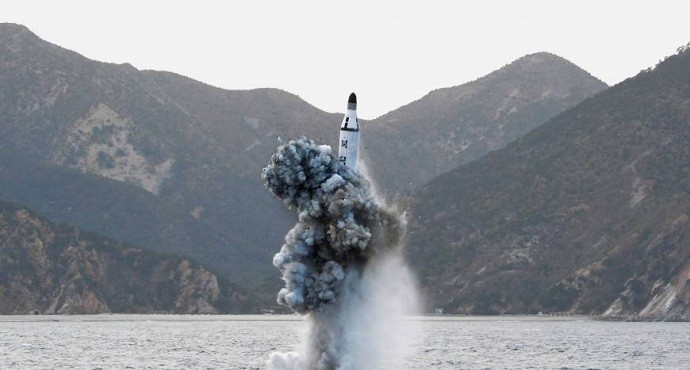 The launch was the latest in a series of missile, rocket, and other weapon tests by North Korea, which is openly pushing to acquire a reliable weapon capable striking targets
A North Korean ballistic missile fired from a submarine Wednesday flew about 500 kilometers (310 miles) in the longest flight by that type of weapon.
The missile fired from a submarine off the eastern North Korean coastal town of Sinpo landed in waters between the Korean Peninsula and Japan, according to a statement from South Korea's Joint Chiefs of Staff.
The U.S. Strategic Command said it tracked the North Korean submarine launch of the presumed KN-11 missile into the Sea of Japan, approximately 300 miles off the coast of North Korea
The 500-kilometer distance is longer than ones recorded by other submarine-launched missiles launched by North Korea, and puts most of South Korea within its range if it is fired near the border.
Japan Prime Minister Shinzo Abe said the missile breached his country's air defense identification zone and condemned what he called an "unforgivable, reckless act" and a grave threat to Japan's security. He said Tokyo had lodged a protest with North Korea.
North Korea's missile and nuclear programs are a source of regional security concerns. Many outside experts say the North doesn't yet have a reliable long-range nuclear missile capable of reaching the continental U.S., but they acknowledge the North has been making steady progress on its weapons programs and could one day acquire such a weapon.
The North warned that "peace, security and relaxation of tension on the Korean Peninsula and in the region cannot be thinkable unless the US-South Korea aggressive joint military exercises are totally halted."
The Ulchi Freedom Guardian (UFG) military drills kicked off Monday and are set to last 12 days. Around 50,000 Korean and 25,000 American soldiers will participate in the exercises, that reportedly involve training for an invasion operation. However, both countries insist the drills are of a purely defensive nature.
Japan, China, South Korea unite in condemning North Korea missile 
The foreign ministers of China, Japan and South Korea made a rare display of unity Wednesday to sharply criticize North Korea's latest submarine missile test.
Japanese Foreign Minister Fumio Kishida, who chaired the meeting with China's Wang Yi and South Korea's Yun Byung-se, said the missile launch is a "provocation that simply cannot be tolerated."
A South Korean Foreign Ministry statement said the government "strongly condemns" the launch, and added it will continue to work with the international community to deploy effective sanctions and pressure against the North.
China's Wang Yi said the three neighbors, despite problems and difficulties among them, should work together to deal with regional threats like North Korea's missile and nuclear ambitions.
"China opposes North Korea's nuclear and missile process, actions that cause tension on the Korean Peninsula," Wang said in a joint news conference.