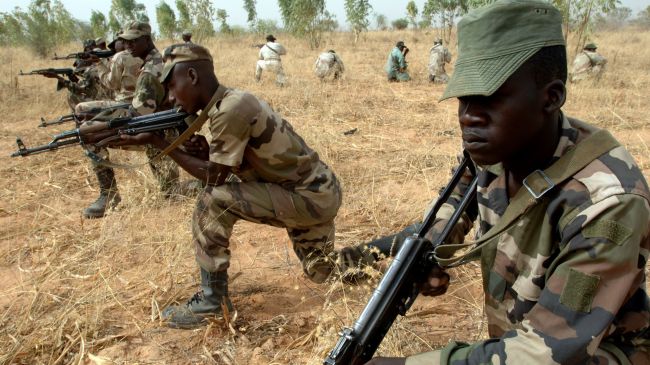 Nigerian troops have repelled an attack by suspected Boko Haram militants, killing dozens of terrorists in the northeastern state of Borno, the military says.
Nearly 80 Boko Haram Takfiri terrorists were killed during an attack on a military base in the town of Biu, the largest town in Borno South, on Wednesday, the military acknowledged.
The Nigerian Defense Headquarters said five terrorists, including foreign nationals, and two anti-aircraft guns were captured during the two-hour gun fight.
The incident marks the latest in a series of violent attacks by the Boko Haram Takfiri group in Nigeria.
Around 150 people were killed in an attack by Boko Haram militants on the Nigerian town of Baga in Borno state on January 3. Reports say, however, that as many as 2,000 people may have been killed in the attack.
The Human rights group, Amnesty International, said the massacre could be the deadliest in the history of the militant group.
Meanwhile, Nigerian President Goodluck Jonathan stopped for a surprise visit in the volatile city of Maiduguri, the capital of Borno State, a spokesman said.
He spent three hours meeting with survivors of the attack.
Boko Haram, whose name means "Western education is forbidden," says its goal is to overthrow the Nigerian government.
The terrorist group has claimed responsibility for numerous deadly shooting attacks and bombings in various parts of Nigeria which have claimed the lives of thousands of people since 2009.
According to the Washington-based Council on Foreign Relations, the violence, which has forced 1.5 million people to flee their homes, killed over 10,000 people last year alone.
GMA/NN