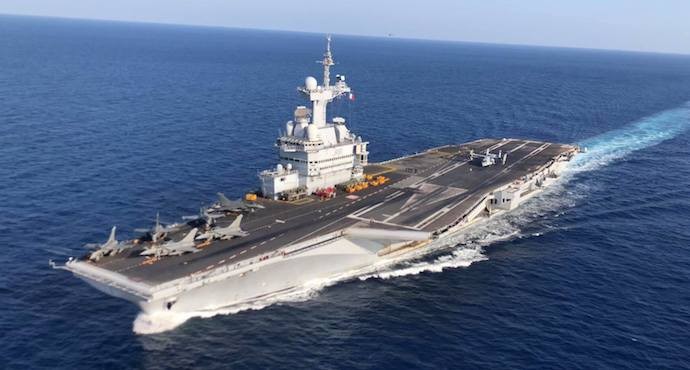 French Navy is investigating the outbreak of novel coronavirus aboard the aircraft carrier Charles de Gaulle
More than 1,000 sailors on France's largest carrier have tested positive for coronavirus so far, following a similar cluster on American vessel the USS Theodore Roosevelt.
The French navy is investigating the outbreak aboard the aircraft carrier Charles de Gaulle, amid growing pressure on government leaders, said a Navy spokesman Commander Eric Lavault.
Of the infected sailors, infected on the Charles de Gaulle vessel, one remains in intensive care and more than 20 have been hospitalized due to complications, according to Lavault.
Commander Lavault insisted that the aircraft carrier's commander sought to improve the physical distance among the crew amid the lack of testing equipment and masks but was impossible to maintain it.
It is "very difficult to apply social distancing measures … on a combat vessel," he said. But "security of the crew is the first concern. A combat ship, especially an aircraft carrier, is nothing without its crew".
Two of four US sailors serving aboard the French aircraft carrier also tested positive, according to a US Navy statement.
A similar outbreak on the USS Theodore Roosevelt occurred days ago leading to the firing of its captain and the resignation this month of the acting US Navy secretary.
France is one of the hardest hit countries in Europe, with almost 150,000 confirmed cases of the virus resulting in nearly 19,000 deaths.