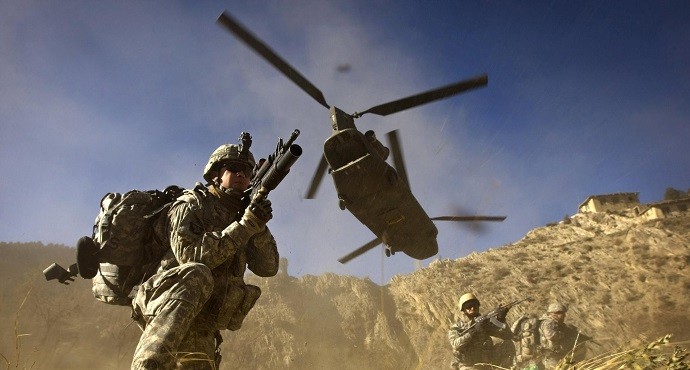 Afghan and US forces, not Taliban, killed more civilians in the first three months of 2019
More civilians are being killed by the Afghan government and American forces than by the Taliban and other insurgents, according to a report by the United Nations.
This marks the first time since 2009, when the UN Assistance Mission in Afghanistan (UNAMA) began documenting civilian deaths and injuries, that the number of deaths caused by pro-government forces during the first quarter of 2019 surpassed those the UN attributed to insurgent groups.
Pro-government forces caused 305 deaths and 303 injuries among civilians – a 39% increase from 2018's first quarter, the report notes. In that same period, Taliban, ISIS and other fighter groups killed 227 civilians and injured 736 more in the first quarter of 2019, according to the UN.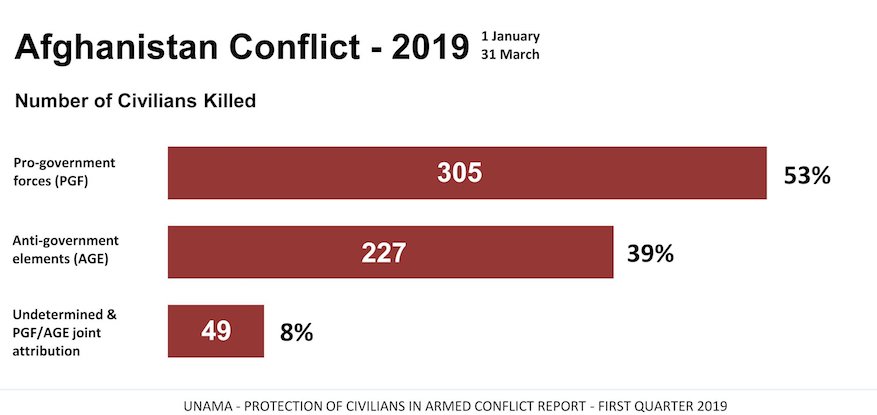 From January to the end of March, 581 Afghan civilians were killed and 1,192 civilians suffered injuries, according to the UN. It was the lowest for a first quarter period since 2013, the UN said.
The three leading causes of civilian casualties were ground engagements (35%), improvised explosive device attacks (28%) and aerial operations (13%), according to the UN.
The majority of the deaths resulted from US air strikes or from search operations on the ground, primarily conducted by US-backed Afghan forces, some of which UNAMA said "appear to act with impunity".
"UNAMA urges both the Afghan national security forces and international military forces to conduct investigations into allegations of civilian casualties, to publish the results of their findings, and to provide compensation to victims as appropriate," the report states.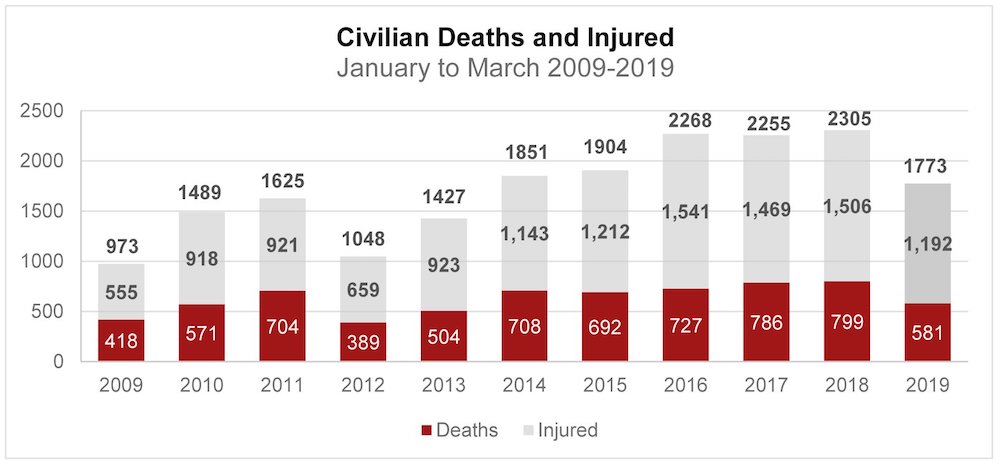 Andrea Prasow, Human Rights Watch's deputy Washington director, said casualties caused by pro-government forces cause more psychological harm. "People who expect the government to be protecting them and then have their lives devastated, it's particularly significant," Prasow told AFP.
"This report really highlights some of the psychological harm that the Afghan people are suffering."
Colonel Dave Butler, spokesman for US Forces-Afghanistan, said the US military holds itself "to the highest standards of accuracy and accountability" and that it strives for precision in all its operations.
"We reserve the right of self-defence of our forces as well as the Afghan Security Forces," Butler said in a statement.