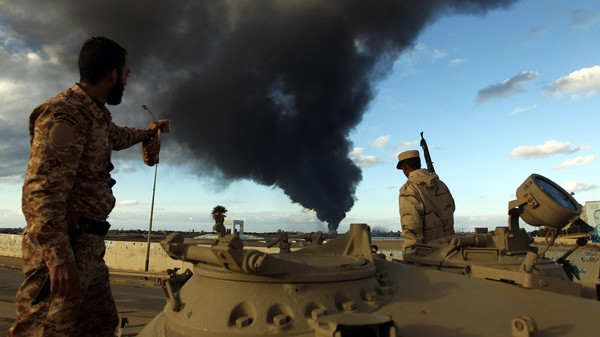 A group of heavily-armed militants has shot dead 17 soldiers and one civilian in a troubled part of central Libya, officials say.
Mohammed Hegazi, a Libyan army spokesman, said militants attacked a military checkpoint in the district of Jufra on Friday.
No group has claimed responsibility for the attack, but security officials put the blame on certain militiamen and militant groups, who have carried out similar assaults in the past.
Hegazi has blamed the attacks on "terrorists roaming the desert areas freely."
On December 25, attackers killed at least 22 soldiers after a surprise assault, in which they used speedboats in a failed bid to seize some of Libya's main oil terminals.
The attackers belonging to the Fajr Libya (Libya Dawn) launched the raid on the northern al-Sidra port by firing rockets from the speedboats, setting an oil tank on fire.
Pro-government forces have also lost ground in the eastern city of Benghazi, where militants have beheaded and killed several people over the past few months.
During the two months leading up to mid-December, around 450 people were killed and another 90,000 were forced to flee their homes in Benghazi.
Libya plunged into chaos following the 2011 uprising that toppled Muammar Gaddafi. The ouster gave rise to a patchwork of heavily-armed militias and deep political divisions.
The groups are now turning their guns on each other in an attempt to dominate politics and the country's vast oil resources.