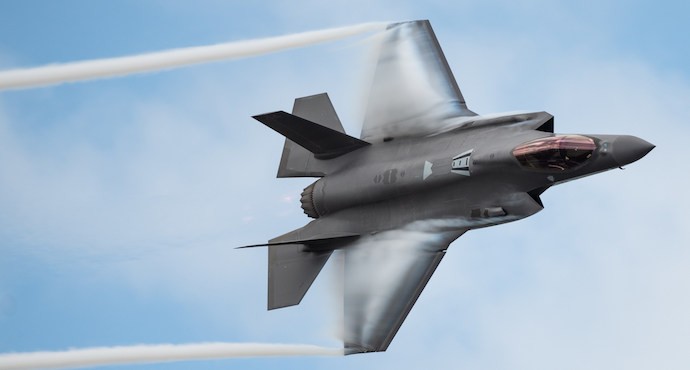 Lockheed Martin delivers 134 F-35s in 2019 surpassing annual target
News, US
December 31, 2019
No Comments
Lockheed Martin delivers 134 F-35s in 2019, expects to build 141 stealthy jets in 2020
The defense and aerospace company, Lockheed Martin, has reached its 2019 target to deliver 134 F-35 fighter jets to the United States and its allies — witnessing 47 percent increase from 2018.
The world's largest defense contractor expects to build 141 F-35s in 2020, with the expectation of peak production in 2023.
"This achievement is a testament to the readiness of the full F-35 enterprise to ramp to full-rate production" said Greg Ulmer, Lockheed Martin vice president and general manager of the F-35 program. Lockheed Martin has its met annual delivery targets three years in a row and continues to increase production rates, improve efficiencies and reduce costs.
"The F-35 is the most capable fighter jet in the world, and we're now delivering the 5th Generation weapon system at a cost equal to or lower than a less capable 4th Generation legacy aircraft."
The company delivered 81 aircraft to the U.S. military, 30 to international partners and 23 to Foreign Military Sales customers. The most common variation of the jet, the F-35A, now costs $77.9 million.
The program has now produced a total of 490 aircraft and surpassed 240,000 cumulative flight hours. Lockheed is the F-35's primary contractor, along with Pratt & Whitney supplying the F-135 engine and BAE Systems providing the electronic warfare systems.
The F-35, also known as the Joint Strike Fighter, is a single-engine, Stealth-enabled aircraft designed for deployment for ground attack and combat.
It comes in three variants: F-35A for conventional takeoff and landing (CTOL); F-35B for short take-off and vertical-landing (STOVL); and the F-35C carrier-based variant for Catapult Assisted Take-Off But Arrested Recovery (CATOBAR) variant.
NEWS: The F-35 team has delivered 134 aircraft, exceeding our delivery commitment for 2019. In 2020, 141 more F-35s will take to the skies. More: https://t.co/S5MSWYcnRi pic.twitter.com/4OJDCOK2eY

— F-35 Lightning II (@thef35) December 30, 2019