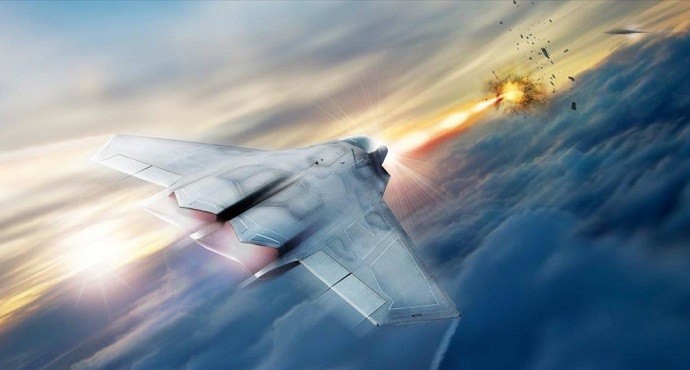 Lockheed gets US Air Force contract to develop fighter jets with laser by 2021
News, US
November 9, 2017
No Comments
Lockheed Martin's lasers could shoot down incoming missiles, and eventually, enemy jets
Defense contractor Lockheed Martin has won a $23.6 million contract by U.S. Air Force Research Lab to develop a high-energy laser system to test on a tactical fighter jet by 2021.
It may sound like science fiction, but lasers have been used by the US Army's ground forces for years. And now, the Pentagon's Air Force Research Lab (AFRL) wants to take the next step by developing a futuristic weapon.
The deal is part of the U.S. Air Force's Self-protect High Energy Laser Demonstrator (SHiELD) program, meant to create lasers that can shoot anti-aircraft missiles out of the sky.
Lockheed said its team is "focused on developing a compact, high efficiency laser within challenging size, weight and power constraints." It said the Air Force lab plans to test the laser on a tactical fighter jet by 2021.
"Lockheed Martin continues to rapidly advance laser weapon systems and the technologies that make them possible," said Rob Afzal, a Lockheed laser weapons expert, in a statement. "We have demonstrated our ability to use directed energy to counter threats from the ground, and look forward to future tests from the air as part of the SHiELD system."
The SHiELD program includes three subsystems:
SHiELD Turret Research in Aero Effects (STRAFE), the beam control system, which will direct the laser onto the target
Laser Pod Research & Development (LPRD), the pod mounted on the tactical fighter jet, which will power and cool the laser
Laser Advancements for Next-generation Compact Environments (LANCE), the high energy laser itself, which can be trained on adversary targets to disable them
SHiELD is designed to protect U.S. military aircraft from anti-aircraft missiles, presumably both air-to-air missiles launched from enemy fighters and larger surface-to-air missiles launched by air defenses
"Earlier this year, we delivered a 60 kW-class laser to be installed on a U.S. Army ground vehicle. It's a completely new and different challenge to get a laser system into a smaller, airborne test platform. It's exciting to see this technology mature enough to embed in an aircraft," said Afzal.
"The development of high power laser systems like SHiELD show laser weapon system technologies are becoming real. The technologies are ready to be produced, tested and deployed on aircraft, ground vehicles and ships."
In another sign of the advancement of laser technology, this week General Atomics was awarded a nearly $9 million contract to develop a laser that could be put on a drone.
The Pentagon has been very interested in lasers since it travel at the speed of light, limit damage to specific target and are relatively inexpensive as compared to traditional weapons, bullets, bombs or missiles.