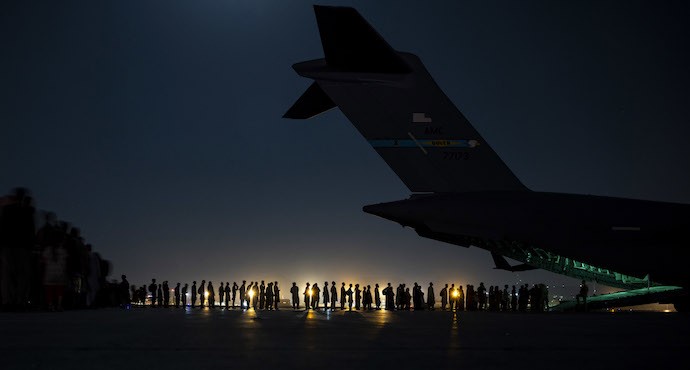 Taliban celebrate return to power as the U.S. leaves Afghanistan after 20 years
The last US military flight left Kabul airport, marking the end of a 20-year presence in Afghanistan and America's longest war.
The last C17 aircraft reportedly took off with the US ambassador onboard after midnight local time on August 30.
"Every single American service member is now out of Afghanistan. I can say that with absolute certainty," General Kenneth McKenzie, commander of US Central Command, said.
U.S. President Joe Biden termed the U.S. airlift to evacuate more than 120,000 Americans, Afghans and other allies from Afghanistan an "extraordinary success." However, more than 100 Americans and thousands of others were left behind.
U.S. Secretary of State Anthony Blinken called the evacuation a "massive military, diplomatic and humanitarian undertaking" and one of the most challenging the US has ever carried out. "A new chapter has begun," he said. "The military mission is over. A new diplomatic mission has begun."
Taliban celebrate as US troops leave
Celebratory gunfire resounded across the Afghan capital on August 31 as the Taliban took control of the airport after the last U.S. troops flew out on a C-17 aircraft.
"It is a historical day and a historical moment," Taliban spokesman Zabihullah Mujahid told a news conference after the departure. "We are proud of these moments, that we liberated our country from a great power."