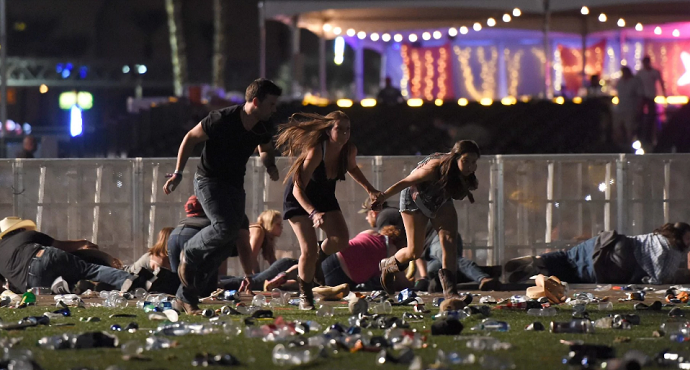 Las Vegas concert is deadliest mass shooting in modern U.S. history with at least 59 dead, 500 injured
A gunman on the 32nd floor of a Las Vegas Strip casino opened fire on an outdoor music festival, killing at least 59 people on Monday.
At least 59 people have been killed and 527 were wounded, officials said, making it one of the deadliest mass shootings in United States history.
A lone gunman, identified by Las Vegas police as 64-year-old retiree Stephen Paddock, began firing from a hotel room on the 32nd floor of the neighbouring Mandalay Bay Resort and Casino into the 30,000 people below at the Route 91 Harvest festival.
Paddock, who had no criminal record, killed himself either moments before or after SWAT police stormed his hotel room.
More than 16 rifles were found in the hotel room with hundreds of rounds of ammunition, the New York Times reported. A further 18 weapons and explosives were discovered inside his home.
A gunman, named by US media as Stephen Paddock, 64, opened fire from the 32nd floor of the Mandalay Bay Hotel toward an open-air music festival.
Sheriff Joseph Lombardo of Clark County told reporters early Monday morning that more than 50 people were killed and more than 200 injured. He identified the gunman as Stephen Paddock, 64. He said the police were seeking "a companion" named Marilou Danley, a woman he described as Asian and 4-foot-11.
NBC News reported that the shooter was Stephen Paddock, a 64-year-old who lives in Mesquite, Nevada, which is around 80 miles from Las Vegas.
Sunday's massacre was the deadliest mass shooting in the US since Omar Mateen killed 49 people at a nightclub in Orlando, Florida, in June of last year.
Las Vegas concert is deadliest mass shooting in modern U.S. history with at least 50 dead, 200 injured pic.twitter.com/tGas8rkgAr

— IRIA (@IRIA_Research) October 2, 2017