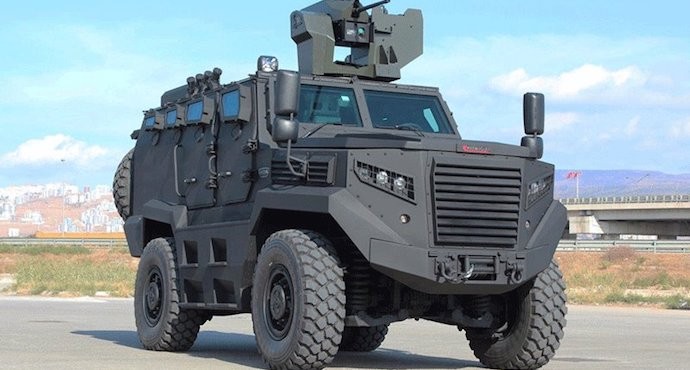 Turkey to provide Kenyan military armored vehicles
Kenya's military has ordered 118 Hizir armored vehicles worth approximately US$69 million from Turkish armored vehicles manufacturer Katmerciler.
Kenya Defense Forces spokesperson Colonel Zipporah Kioko confirmed that the country is finalizing the deal for the mine-resistant, ambush-protected Hizir vehicles.
"The Hizirs will provide the Kenyan troops protective mobility wherever they are deployed," a Katmerciler official said.
The fully indigenous Hizir is a 400-horsepower tactical wheeled armored 4×4 vehicle, which provides high protection against mines and handmade explosives.
The vehicle was launched in November 2016 by President Recep Tayyip Erdogan. The export of the vehicle was worth $20.7 million in 2019-2020.
"Hizir, a very powerful vehicle with high performance, is an important combat vehicle not only for our country but also for friendly nations," Katmerciler acting CEO Furkan Katmerci said. Hizir was designed to perform highly under conditions of intense conflict in rural and urban areas.
The Turkish armored vehicle is certified by NATO. The vehicle is fitted with Turkish company Aselsan's Stabilized Advanced Remote Weapon Platform (SARP), which can be installed on tactical vehicles, fixed surveillance posts, towers and critical infrastructure.
Hizir specifications
Hizir 4×4 Tactical Wheeled Armored Vehicle can be used in various configurations such as combat, command and control, Chemical, Biological, Radiological and Nuclear (CBRN) defense, weapon carrier, ambulance, border security and reconnaissance. The vehicle has a high level of ballistic and mine protection.
It is designed and optimized for high performance under extreme operational conditions in rural and urban areas for 9 personnel. The agile, dynamic, versatile, low maintenance vehicle is developed for conflict conditions with high maneuverability and ballistic fortification.