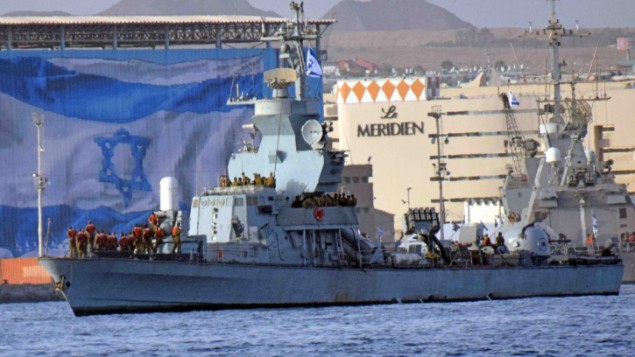 Israeli Prime Minister Benjamin Netanyahu says Tel Aviv has struck a deal with Berlin to purchase four new Sa'ar-class warships.
Netanyahu said the deal was signed between Israeli and German military officials earlier this week in the German capital.
"We purchased four new Sa'ar vessels," the Israeli premier said during a graduation ceremony for the Israeli military pilots.
Netanyahu also praised German Chancellor Angela Merkel "for her commitment and constant assistance to our security."
He, however, did not say when the ships would be delivered.
According to the German newspaper Bild am Sonntag, the Merkel administration contributed 115 million euros to the estimated one-billion-euro deal. Germany often subsidizes Israeli military projects.
Netanyahu said the Sa'ar vessels will join the German-made Dolphin-class submarines already in the employ of the Israeli navy.
The Tel Aviv regime seeks to use the fleet to protect an array of off-shore gas extraction facilities in the Mediterranean Sea.
Germany, which is considered as Israel's top navy supplier, has delivered the regime five Dolphin-class submarines in recent years.
In March 2012, Israel signed a contract for a sixth Dolphin-class submarine to be delivered in a few years.
Netanyahu also said that Israel wouldn't tolerate any aggression from its neighbors, responding to Wednesday's exchange of fire with Gaza, which left an IDF soldier seriously injured and a Hamas commander dead
"We won't tolerate attacks upon us, not from the Gaza Strip, not from the Golan [Heights], not from the border with Lebanon — from any place, and therefore the IDF responded with force, responded with force immediately to the attempt by terrorist groups to rise in recent days," he said.
Netanyahu blamed Hamas for the recent violence and said that the IDF worked to thwart terrorist groups from acquiring arms, particularly from Iran.
"We are determined to prevent our enemies from acquiring deadly weapons that can threaten our security, and we are determined to do everything in order to prevent Iran, which calls for our destruction in these days, from acquiring nuclear weapons," he said.
Earlier this week, the Israeli Navy was reportedly finalizing a deal to acquire three unmanned naval warships, Defensenews.com reported. The report said that the Navy aims to launch Israeli-made Protector unmanned surface vessels by mid-2015.