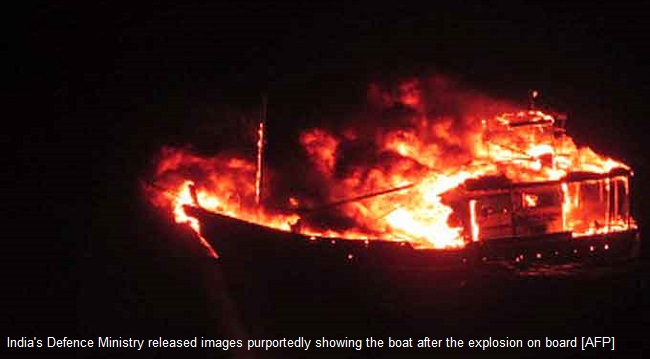 KARACHI – Indian Coast Guard ships perhaps by mistake fired a shell at a Pakistan fishing boat early on Wednesday (December 31, 2014) and apparently to hide the blunder the Indian Defence Ministry claimed a 'Pakistani fishing boat exploded by itself' when Indian Naval ship approached it.
The Indian official report confirmed that Indian Coast Guards had fired several "warning fires" during the incident.
According to fishermen in Karachi the Indian Navy had been challenging Pakistani fishing boats even within Pakistani waters and had arrested several fishermen in recent weeks.
Karachi based fishermen insisted that fishermen were fired upon by Indian Coast Guards and the boat exploded due to an India shell which hit it after being chased by the Coast Guards for over an hour.
The Indian report stated that Indian Coast Guards had chased Pakistani boats at Porbandar but Pakistani fishing boat exploded by itself and four men had died.
Reports from India claimed that the suspicious fishing ship allegedly laden with explosives was intercepted by Indian maritime guards on the intervening night of December 31 and January 1 in Arabian Sea near Indo-Pak maritime boundary, approximately 365 km from Porbander.
An Indian report also quoted intelligence inputs received on 31st December that the boat from Keti Bunder near Karachi was planning some illicit transaction in Arabian Sea.