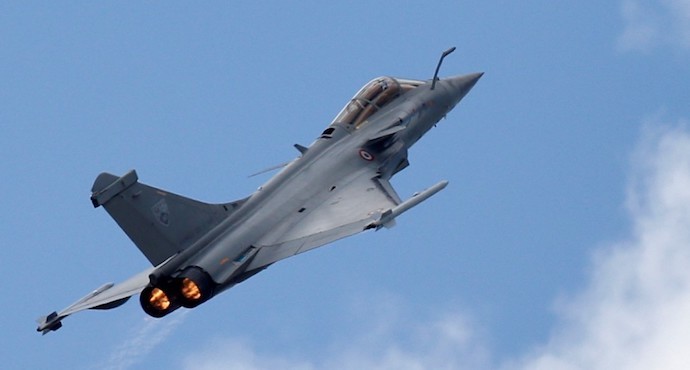 India gets new jets amid border tension with China
India has received the first five of 36 Dassault Rafale fighter planes from France in an attempt to upgrade its air fleet.
The jets arrived at Ambala Air Station India and will be inducted into the Indian Air Force's 'Golden Arrow' squadron.
The fighter jet is the first imported fighter jet to be inducted into the IAF two decades after the Russian Sukhoi-30 fighters. The first Su-30 entered IAF service in 1997.
The new jets are part of a $965 million purchase in 2016 to upgrade India's military amid tensions with China and Pakistan.
"The Birds have landed safely in Ambala," Indian Defense Minister Rajnath Singh tweeted. "The touchdown of Rafale combat aircraft in India marks the beginning of a new era in our military history." he said the twin-engine, multirole fighters would "revolutionize" the Indian Air Force (IAF).
'Golden Arrows' reach home!

Chief of the Air Staff Air Chief Marshal RKS Bhadauria and AOC-in-C WAC Air Marshal B Suresh welcomed the first five IAF Rafales which landed at Air Force Station Ambala earlier today. #IndianAirForce #Rafales@DefenceMinIndia @rajnathsingh pic.twitter.com/P4MDi0FWUs

— Indian Air Force (@IAF_MCC) July 29, 2020
"This aircraft has very good flying performance and its weapons, radar and other sensors and electronic warfare capabilities are among the best in the world. Its arrival in India will make the IAF much stronger to deter any threat that may be posed on our country," Singh was quoted as saying.
The arrival of the jets in India comes six weeks after Indian troops fought with Chinese soldiers along the Line of Actual Control, the disputed border between the countries in which 20 Indians were killed in hand-to-hand combat.
The first Rafales in India will be stationed at Ambala, about 135 miles from the India-Pakistan border while the second group will be stationed at Hasimara Air Station near the border with China.
The fighter planes that are in services in militaries of France, Egypt and Qatar, are known for their agility in the air, and typically carry air-to-air and air-to-surface missiles.