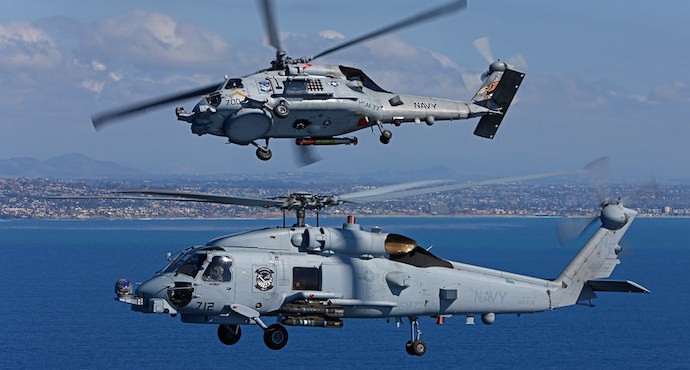 US approves $2.6B sale of 24 MH-60R Seahawk helicopters to India
After a decade's wait, the US has given its nod for the sale of 24 multi-role MH-60R Seahawk maritime helicopters to India at an estimated cost of USD 2.6 billion, the State Department has announced.
The Seahawk helicopters will replace India's aging British-made Sea King fleet that has been in service since 1971, as per the Indian Navy's website.
The announcement comes after six weeks of increased tensions between India and its northern neighbor, Pakistan. India is the leading top five arms importer in the Asia and Oceania region followed by Australia, China, South Korea and Vietnam, according to the Stockholm International Peace Research Institute (SIPRI).
The Seahawk helicopters made by Lockheed Martin Corp. would be equipped with weapons such as Hellfire missiles, torpedoes and rockets. The proposed deal also includes one MH-60B/R Excess Defense Article (EDA) helicopter from the US Navy.
The helicopters are designed to operate from frigates, destroyers, cruisers and aircraft carriers.
The sale will include 54 embedded global positioning system/inertial navigation systems with selective availability/anti-spoofing Module, 30 multi-mode radars, 60 engines, 24 airborne low frequency systems, 30 multi-spectral targeting systems.
More than 300 of the helicopters are in operation, including with the U.S. Navy, Royal Danish Navy, Royal Australian Navy and Royal Saudi Naval forces.
The Sikorsky Seahawk helicopter, known as the Romeo, is the "world's most advanced maritime helicopter," Lockheed Martin said on its website. "It is the most capable naval helicopter available today designed to operate from frigates, destroyers, cruisers and aircraft carriers."