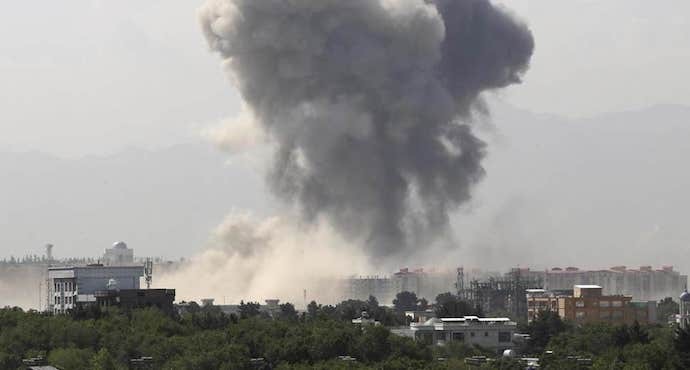 Dozens wounded as powerful blast rocks Kabul
A powerful bomb blast rocked the Afghan capital on Monday, sending smoke in the Kabul skies and wounding at least 65 people, including nine children hurt by flying glass, officials said.
The bomb blast hit a military compound in Kabul less than two miles from the U.S. Embassy.
Mohammad Karim, a police official in the area, said a car bomb exploded outside a Defense Ministry building. Militants then ran into a nearby high-rise in a crowded market area and began firing down toward the ministry. Police and Afghan security forces swarmed the area and cordoned it off.
About 50 children who were in two nearby schools are among the wounded, the education ministry says.
"Dozens of wounded were taken to hospitals from today's blast in Kabul," health ministry spokesman Wahidullah Mayar tweeted.
The area was quickly blocked off by Afghan forces and ambulances, while the nearby "Green Zone" diplomatic area was put on lockdown, with no one allowed in or out.
The Taliban claimed responsibility for the July 1 attack, which comes amid new round of peace talks between Taliban and United States in Qatar to try to put an end to the nearly 18-year war in Afghanistan.