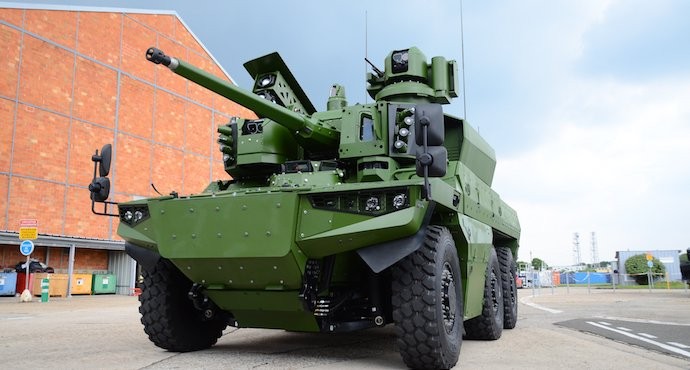 At least 271 Griffon vehicles and 42 Jaguar vehicles o be delivered
France's Ministry of the Armed Forces has ordered additional Griffon and Jaguar vehicles from Nexter, Arquus and Thales.
The latest order includes 271 Griffon vehicles and 42 Jaguar vehicles, set to be delivered between 2022 and 2023. The order follows an initial contract for 339 vehicles signed in 2017.
French Army will receive 1872 Griffon and 300 Jaguar vehicles by 2030 to restructure the country's ground forces. Around 936 Griffons and 150 Jaguars are set to be delivered by 2025.
The French Army is striving to have its first Griffon combined arms battle group operational by 2021. Griffon and Jaguar are both 6×6 vehicles weighing around 25 tonnes.
Griffon
Griffon is a multi-role armored vehicle (VBMR) designed to replace the in-service Véhicule de l'avant blindé (VAB). It was designed to allow users to achieve the mission under optimum conditions. Different versions will be developed for troop transport, command post, artillery observation vehicle, etc.
Unit cost: €1 million/vehicle
Variants: Armored Personnel Carrier / Command Post / Artillery Observer
Used by: France, Belgium
Engine: 298 kW (400 hp)
Height: 3.0 m
Maximum speed: 110 km/h (68 mph)
Manufacturer: Nexter, Thales, Arquus
Jaguar
Jaguar is an armored reconnaissance and combat vehicle (EBRC) which will replace in-service light tanks. Jaguar is equipped with the same CTA 40mm cannon that features on British AJAX and Warrior CSP vehicles and is a joint venture between BAE Systems and Nexter. It is equipped with a threat detection system including an acoustic detonation tracking system, a laser warning detector and a missile launch detector connected to the SCORPION joint vetronics system.
Unit cost: €1 million/vehicle
Used by: France, Belgium
Engine: 500 hp
Maximum speed: 90 km/h (56 mph)
Main armament: CT40 40 mm cannon
Manufacturer: Nexter, Thales, Arquus