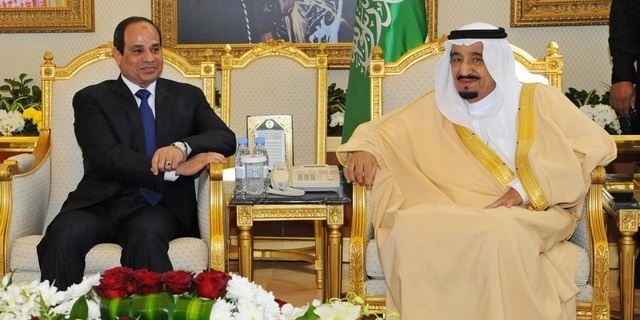 Egyptian President Abdel-Fattah al-Sisi has held talks with Saudi King Salman bin Abdulaziz during a brief visit to Riyadh, which coincided with a visit to the Saudi capital by Sisi's Turkish counterpart, who the Egyptian leader is on hostile terms with.
The objective of Sisi's brief visit to the Persian Gulf kingdom on Sunday was officially described as discussing bilateral ties and regional affairs, though regional observers viewed the summary visit as an effort to secure more funds to boost the economically and politically troubled African nation.
During the visit, King Salman reportedly broke official protocol to meet and hold talks with Sisi at the airport, amid press reports questioning whether the close ties that existed between the two Arab allies under late King Abdullah would continue.
According to press reports, Sisi's visit to Riyadh only lasted four hours and marked the first meeting between the two since an audio footage of Sisi was leaked in February allegedly poking fun at the immense oil wealth of Persian Gulf states and hinting that the Arab monarchies of the region have more money than they need and should give more to Egypt.
Saudi Arabia, the United Arab Emirates (UAE) and Kuwait are the key financial backers of Sisi's government, having pledged nearly $12 billion to Cairo since the former army chief, who led a military coup against Egypt's first freely-elected President Mohamed Morsi, rose to power.
Meanwhile, official Saudi news agency SPA reported that Salman and Sisi discussed "bilateral cooperation and affirmed the deep strategic relations between the kingdom and Egypt, and their eagerness on strengthening them."
It further said the two also held talks on "regional and international developments."
Moreover, a Saudi official was cited in press reports as saying that the two Arab rulers further discussed Sisi's plan to establish a joint "anti-terrorism force" to deal with regional threats, specifically from Yemen, Libya and Syria.
He said Jordan has expressed interest in joining such a force, which could include Saudi Arabia and the UAE.
While in Riyadh, however, Sisi and Turkish President Recep Tayyip Erdogan, whom Cairo has accused of backing the Muslim Brotherhood organization and ousted ex-President Morsi, did not meet.
MFB/HJL/HRB