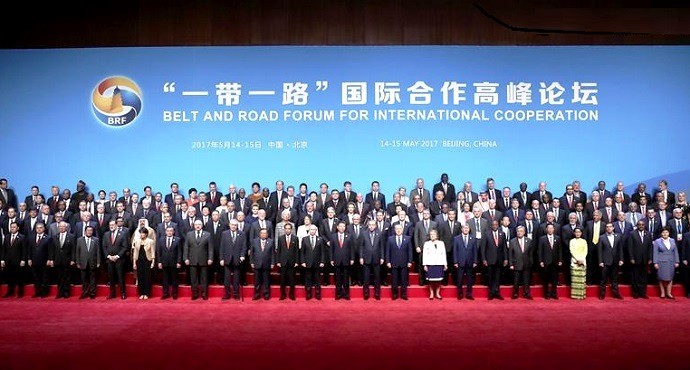 Xi, Putin and Erdogan prominent leaders at the Belt and Road Forum which aims to connect Asia, Africa and Europe
President Xi Jinping has formally launched two-day summit on 'Belt & Road Initiative', China's grand 21st-century strategy for the New Silk Road which aims to link Asia, Europe, Africa and beyond.
The Belt and Road Forum is China's answer to Davos or the G20, centered around the colossal One Belt, One Road (OBOR) trade initiative or the New Silk Road project.
Speaking at the opening ceremony, President Xi Jinping said the Belt and Road Initiative is "a project of the century" that will benefit people across the world.
China announced an additional $124 billion in funding for the OBOR initiative, including loans, grants and $8.7 billion in assistance to developing countries. According to Chinese state media, some $1 trillion has already been invested in OBOR, with another several trillion due to be invested over the next decade.
A total of 29 foreign heads of state and government leaders attended the forum, including Russian President Vladimir Putin, Turkey's President Recep Tayyip Erdogan and UN Secretary-General Antonio Guterres, who said earlier: "We cherish Chinese engagement in multilateralism."
Participants in the forum at the launch came from 110 countries, including North Korea. However, China's neighbour, India boycotted the high-profile summit in Beijing, setting off a new dispute between the neighbours.
Xi highlights peace, prosperity and cooperation
Xi called for closer cooperation among countries across Asia and Europe in areas as diverse as anti-terrorism and finance to forge a path of peace, inclusiveness, and free trade.
"What we hope to create is a big family of harmonious co-existence," Xi said, adding that all countries were welcome to take part in the project.
Pointing in the direction of such an ambitious "Chinese dream", Mr Xi said: "In pursuing the Belt and Road Initiative, we should focus on the fundamental issue of development, release the growth potential of various countries and achieve economic integration and interconnected development and deliver benefits to all," he said.
Stressing infrastructure connectivity, Xi called for promoting land, maritime, air and cyberspace connectivity, focusing on key passageways, cities and projects, and connecting networks of highways, railways and sea ports.
Russian President Putin calls for new approaches to solve political crises
Addressing the forum, Russian President Vladimir Putin said: "Protectionism is becoming the new normal."
"We cannot resolve modern challenges by using old approaches. We need new ideas. We need to abandon all stereotypes," Putin urged.
"We should set a role model for the global community of how we can work together, develop together, based on equality and respect for national sovereignty based on international law and the United Nations principles" Putin stressed.
New Silk Road to eradicate terrorism: Erdogan
Turkish President Recep Tayyip Erdogan described the Belt and Road initiative of China as "against terrorism" adding that Turkey will fully support it.
"This initiative, especially against the rising terrorism in the world, will be an initiative that will almost eradicate terrorism. I believe this cooperation which will benefit everyone will succeed as a model. We, as Turkey, are ready to give all kinds of support for it, Erdogan said.
What is One Belt, One Road?
In 2013, Chinese President Xi Jinping unveiled an ambitious economic and foreign policy plan – the "Silk Road Economic Belt" and "21st Century Maritime Silk Road".
With this new project, China wants to revive an ancient network of silk land and ocean trade routes of centuries past.
The plan is to build a vast network of new trade routes across the globe, multiple high-speed rail networks in Europe, massive ports across Asia and Africa and a series of free-trade zones.