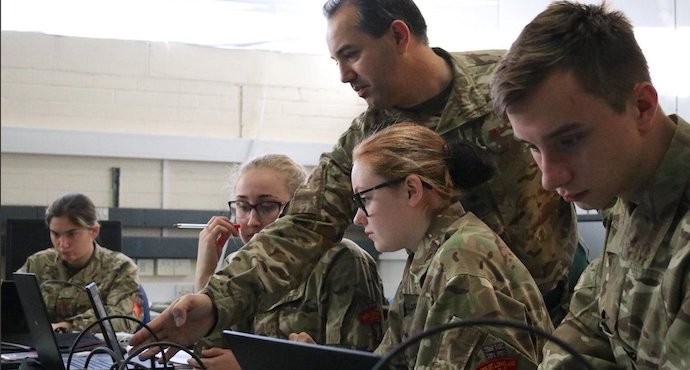 British Army's Royal Signals host Army Cadets CyberFirst Defenders Course
British Army's Royal Signal hosted nearly 200 cadets (aged between 12-18 years) for the CyberFirst Defenders Course.
The course was aimed at raising raise awareness of cybersecurity and developing digital skills.
The various elements of the course included looking at first-line defences such as firewalls, anti-virus software and managing the personal digital footprint. The course provides an insight into the world of cyber and focused on how to manage common threats.
"The course is highly practical, and gives cadets the opportunity to construct, configure and run the security of a typical home network, putting the skills they learned into practice" according to the official statement.
"This is a brilliant course. It increases awareness of cybersecurity, and in developing practical skills it helps promote STEM careers for the next generation. It also allows us to tackle some of the old fashioned stereotypes surrounding a career in cyber, plus the cadets love it" said Lt Robb Bloomfield, volunteer and the CyberFirst Project Officer for the Cadet CIS Training Team.
Cadet CSM Joshua Gowland from Durham ACF said "I thoroughly enjoyed the amazing insight into the world of cyber defense and I'm really looking forward to putting my new-found signals knowledge into use during fieldcraft."
The Royal Signals are the British Army's professional communicators, deployed from Special Forces and intelligence gathering teams to personnel deployed in armored vehicles.
The Royal Signals tackle a wide range of operations from setting up complex information and radio networks under fire, enabling communications for humanitarian missions to providing 4G networks for multinational forces.
Thanks to the @ArmySgtMajor who visited Cyber Spartan yesterday, a Defence-wide cyber competition with teams from across the Army and @RoyalNavy. Designed to challenge and educate personnel on cyber defences, the #RoyalSignals are the @BritishArmy leaders in #cyber. pic.twitter.com/MRN9DXi6ps

— Royal Signals (@R_Signals) February 27, 2020