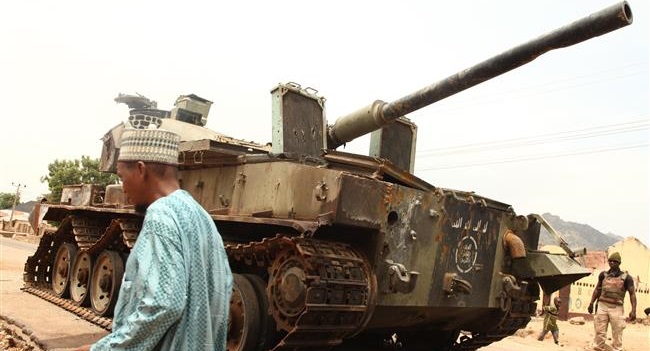 Twenty-six people were killed and 28 injured Saturday afternoon in a suicide bomb attack inside a mosque in Maiduguri, the capital and largest city of Borno state.
The attack came one day after Muhammadu Buhari was sworn in as the West African nation's president.
Earlier Saturday, Boko Haram launched a rocket-propelled grenade attack on a residential area of the northeastern Nigerian city of Maiduguri.
According to residents and military sources, the assault damaged to at least five homes and killed 13 people began just after midnight and lasted about three hours.
Hassan Buba, a local leader, said of the grenade attack: "Boko Haram kept shelling the area with RPGs, … Many people were also injured."
Mari Madu, another local resident, said he had heard and counted at least 40 explosions, which began shortly after midnight, before he lost count of the blasts.
"Each time they fired into the town, we saw bright sparkling flashes which moved with great speed… One of the blasts shook my roof so badly that I thought it must have landed on my house," Madu said.
Maiduguri, with a swelling population of two million people, is facing a heavy influx of refugees.
Hundreds of thousands of displaced people in the region have fled their homes in the past years, fearing Boko Haram atrocities.
Some 13,000 people have reportedly been killed by the militant group since it started its terror campaign six years ago.
A multinational force comprising of armed forces from regional nations has reduced the sphere of influence of the extremists; however, the group continues to carry out bombings and hit-and-run attacks in the region.
At present, Boko Haram militants are said to be holed up in the Sambisa Forest, 60 kilometers (37 miles) southeast of Maiduguri.
Nigeria's new President Muhammadu Buhari has announced his plan to shift the headquarters of the war against the terrorist group to Maiduguri, promising to eradicate the terrorist group.
USN/CNN/PTV