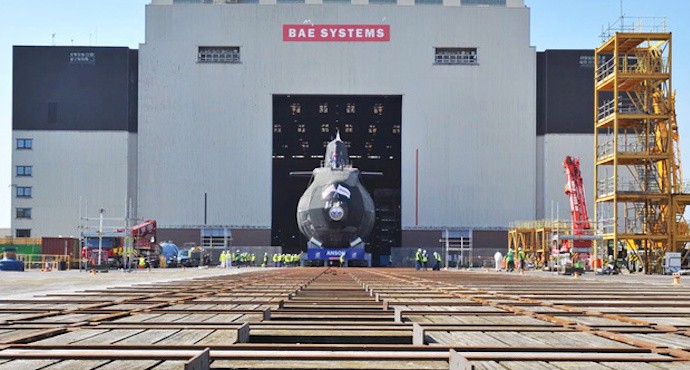 BAE Systems launches new Astute-class submarine for British Royal Navy
Europe, News
April 21, 2021
No Comments
BAE Systems launched the fifth Astute-class submarine for the Royal Navy
The 7,400-tonne nuclear-powered submarine named Anson entered the water for the first time on April 20. It is the fifth of seven Astute-class attack submarines built for the British Royal Navy.
Anson will begin the next phase of its test and commissioning program, before leaving Barrow shipyard for sea trials with the Royal Navy next year.
"The launch marks an important milestone in the Astute program and seeing Anson enter the water at such an advanced state is a tangible demonstration of everyone's hard work over the years," said Steve Timms, Managing Director BAE Systems Submarines.
"Designing and building nuclear-powered submarines is a national endeavor and days like this bring a huge sense of pride for our workforce, our partners in the submarine enterprise and our UK supply chain, not to mention our communities. We now look forward to a successful test and commissioning phase and working alongside Anson's crew to prepare the submarine for operations with the Royal Navy."
The first four submarines in the class, HMS Astute, HMS Ambush, HMS Artful and HMS Audacious, have earlier been handed over to the Royal Navy, with two boats currently under construction at Barrow-in-Furness site in Cumbria.
Features of Astute-class submarine
These are the UK's largest and most advanced attack submarines.
It can strike at targets up to 1,000km from the coast with pinpoint accuracy.
Astute submarines are the first nuclear submarines to be designed entirely in a three-dimensional, computer-aided environment. Instead of optical periscopes, high specification video technology is used to scan the horizon.
Measuring 97 meters in length the boats can circumnavigate the globe submerged, producing their own oxygen and drinking water.
Astute submarines will be the quietest ever operated by the Royal Navy.
Equipped with world-leading sensors, the Astute-class carries both Tomahawk Land Attack Cruise Missiles (TLAM) and Spearfish heavyweight torpedoes.