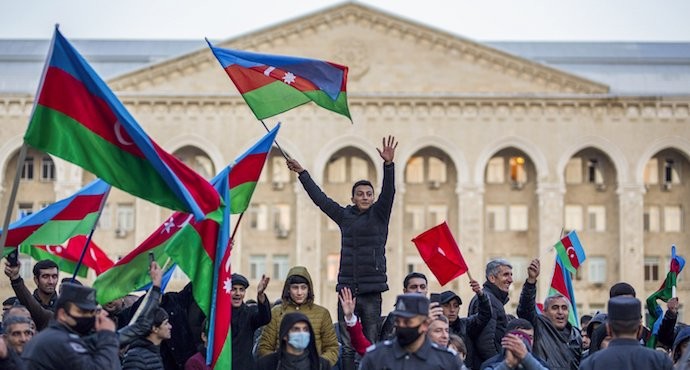 Azerbaijan celebrates 'Victory', protests erupt in Armenia after Nagorno-Karabakh deal
Europe, News
November 11, 2020
No Comments
Armenia, Azerbaijan and Russia sign Nagorno-Karabakh peace deal
The peace deal that prompted celebrations in Azerbaijan sparked anger in Armenia where protesters took to the streets to denounce their leaders after the Moscow-brokered agreement ended weeks of fierce fighting and decades-long military conflict.
Azerbaijani President Ilham Aliyev hailed the Nagorno-Karabakh peace deal as a victory for his country while Armenian Prime Minister Nikol Pashinyan described the deal as "incredibly painful" both for him and the people.
Scenes from Armenia's parliament:
Парламент Армении после объявлении об окончании войны. pic.twitter.com/6ElXyZ38dz

— Грани.Ру (@GraniTweet) November 10, 2020
Soon after the peace deal announcement, hundreds of Armenians stormed government buildings in Yerevan chanting "Nikol has betrayed us" while others shouted: "Where is that traitor?"
In the Azeri capital, Baku, joyous residents took to the streets raising flags and chanting "Karabakh! Karabakh!"
The streets of Baku, Azerbaijan are still filled with people cheering today's agreement for the Karabakh region. pic.twitter.com/r208oyEEwC

— CaucasusWarReport (@Caucasuswar) November 10, 2020
"This (ceasefire) has historic significance. This statement constitutes Armenia's capitulation. This statement puts an end to the years-long occupation," Azeri President Ilham Aliyev said.
Since September 27 when the fighting flared up this year, more than 1,400 people have been confirmed killed, including civilians, however, the death toll is believed to be significantly higher.
The region is internationally recognized as part of Azerbaijan but claimed and occupied by Armenia since 1994 when the two sides have failed to reach a resolution to the dispute since the first war, which killed at least 30,000 people.
Peace Deal
The agreement was signed by Armenian Prime Minister Nikol Pashinyan, Azerbaijani President Ilham Aliyev, and Russian President Vladimir Putin.
Under the agreement, Azerbaijan will hold on to areas of Nagorno-Karabakh that it has taken during the conflict. Armenia has also agreed to withdraw from several other adjacent areas within seven Azerbaijani regions around Nagorno-Karabakh over the next few weeks.
According to the deal, about 2,000 Russian peacekeepers, who entered Karabakh just hours after the deal was signed, will be based in Stepanakert, the regional capital, which links to Armenia. Turkey will also take part in the peacekeeping process.