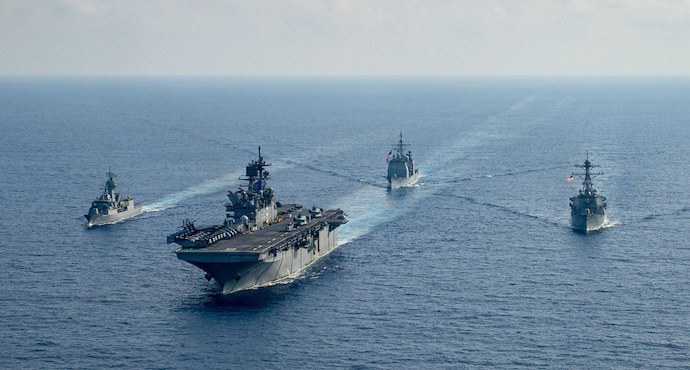 Tensions in the South China Sea rise again amid COVID-19
Military tensions resurfaced in the South China Sea, where Royal Australian Navy and US Navy recently conducted exercises as part of navigation and routine maritime security patrols.
The Royal Australian Navy frigate HMAS Parramatta (FFG 154) began sailing with Ticonderoga Class guided missile cruiser USS Bunker Hill (CG 52) then later with amphibious assault ship USS America (LHA 6) and Arleigh-Burke Class guided missile destroyer USS Barry (DDG 52) on 18 April.
The combined operations started with force integration training and maneuvering exercises between Parramatta and Bunker Hill.
Rear Adm. Fred Kacher, commander of the America Expeditionary Strike Group said that the combat capability together in the South China Sea "truly signals to our allies and partners in the region that we are deeply committed to a free and open Indo-Pacific."
The U.S. Navy also confirmed three of its warships had transited the South China Sea "in support of security and stability in the Indo-Pacific region" in a tweet earlier.
#NavyPartnerships in action in the #SouthChinaSea!@Australian_Navy' HMAS Parramatta sails with #USNavy's #USSAmerica, #USSBunkerHill, and #USSBarry in @US7thFleet helping support security & stability in the Indo-Pacific region. #FreeAndOpenIndoPacific https://t.co/Ne1zyTxHE4 pic.twitter.com/l7kfqRZpG0

— U.S. Navy (@USNavy) April 22, 2020
Operations with Parramatta included integrated live-fire exercises, coordinated helicopter operations, small boat force protection drills, command and control integration, and maneuvering interoperability, the U.S. Pacific Fleet said in a statement.
"It's a great opportunity to strengthen our relationship and practice joint tactics, techniques and procedures" sai. d Lt. Cmdr Jacob "Shaky" Norgaard.
The exercise offered both navies the opportunity to integrate all warfare areas, and further strengthen the bond shared by the U.S. and Australia navies.
Thee show of force comes at a significant time when concerns about China's increased activity in the region were reported. The Australian and the U.S. navy rendezvous was reportedly close to where the Chinese government survey ship Haiyang Dizhi 8 is assumed to be exploring for oil.
The United States accused China of increasing military activities in the South China Seam taking advantage of the COVID-19 outbreak. "The United States strongly opposes China's bullying," U.S. Secretary of State Mike Pompeo said Wednesday.
However, Chinese Foreign Ministry spokesman Geng Shuang said that an attempt of any form to "deny China's sovereignty and interests in the South China Sea," and "enforce illegal claims" will be "doomed to fail."