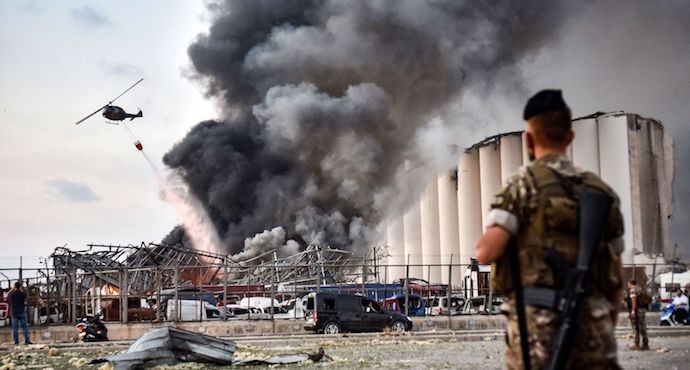 At least 135 killed, 5000 injured as powerful explosion rocks Lebanon's capital Beirut
Middle East, News
August 4, 2020
No Comments
Massive explosions that shook Beirut called a "national disaster akin to Hiroshima"
More than 135 people were killed and over 5000 reported injured in powerful explosions that rocked the port area of the Lebanese capital Beirut on Tuesday causing widespread damage.
The Lebanese Red Cross also said there are 4,000 casualties due to the explosion, with the number expected to rise.
Beirut City Governor Marwan Aboud said "Beirut is a disaster city and the scale of the damage is enormous" and called the blast a "national disaster akin to Hiroshima."
Lebanon's Health Minister Hamad Hasan said the explosion caused a "very high number of injuries" and extensive damage.
Videos shared online depicted the exact moment of the enormous explosion sending an immense shockwave tearing through downtown neighborhoods.
https://twitter.com/FadyRoumieh/status/1290672517733064705
"I saw a fireball and smoke billowing over Beirut. People were screaming and running, bleeding. Balconies were blown off buildings. Glass in high-rise buildings shattered and fell to the street," said a Reuters witness.
Some citizens described the blasts as "apocalypse in Beirut".
Apocalypse in #Beirut complete destruction #beirutexplosion #beirutblast #انفجار_بيروت pic.twitter.com/mzExIq2N6u

— Shada Omar شدا عمر (@Shadaomar) August 4, 2020
The blast damaged hundreds of homes and blew out windows miles away, with the explosion heard across the city.
'Those responsible will pay the price': Lebanese PM
Lebanon's Prime Minister Hassan Diab said that those responsible for would "pay the price".
"I promise you that this catastrophe will not pass without accountability," he said in a televised speech. He added that facts about the "dangerous" warehouse at the epicenter of the blast will be brought to light.