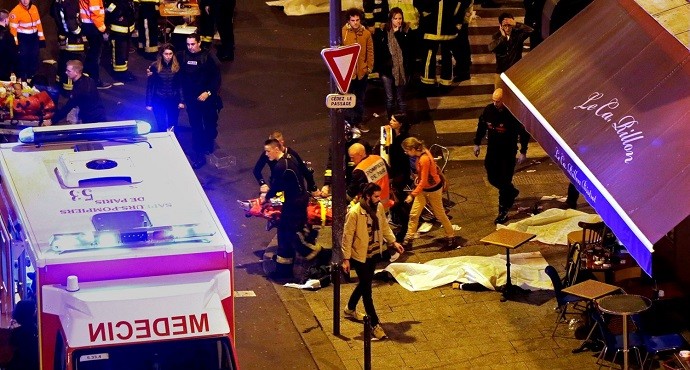 At least 129 killed in France's deadliest attack since World War II
Europe, News
November 14, 2015
9 Comments
Attacks in six locations across Paris, explosions outside the city's biggest stadium, kill over 120 people
• At least 129 dead in series of terror attacks – Islamic State reportedly claims responsibility
• Six attack sites, including concert hall where 112 hostages killed
• Explosions outside Stade de France during international football match
• State of emergency declared by France President Francois Hollande
The death toll from the coordinated series of attacks in Paris on Friday night has increased to 129 people and more than 350 injured. Ninety-nine of the injured are in critical condition, Paris prosecutor François Molins said.
Gunmen and bombers attacked busy restaurants, bars and a concert hall at six locations across Paris on Friday evening, killing scores of people in what a shaken President François Hollande described as an unprecedented terrorist attack.
France declared a state of emergency and secured its borders after attackers unleashed a coordinated wave of explosions, gunfire and hostage-taking in Paris that generated scenes of horror and carnage.
Dozens have been killed at a restaurant in the city's 10th Administrative District, or arrondissement; a soccer stadium; and the nightclub Bataclan, where an unknown number have been held hostage.
The first attack was a shooting outside the Le Petit Cambodge restaurant, after which gunfire was reported at two other locations in the 11th arrondissement area.
More than 100 people were also taken hostage during a heavy metal concert in the Bataclan concert hall, with on-the-scene reports suggesting that around 50 were released alive, but not before as many as 118 were killed inside the venue.
Police said 11 people were killed in the popular Carillon bar in the 10th arrondissement and other officials said at least three people died when bombs went off outside the Stade de France stadium in northern Paris during a France-Germany football match.
French President Francois Hollande declared a national state of emergency following what he called "unprecedented terror attacks", shut its borders and deployed 1500 extra troops to the capital.
"Terrorist attacks of an unprecedented magnitude are in play in Paris. It's horror," Hollande said. "We have mobilized all forces possible to neutralize the terrorist."
Early Saturday, he declared: "For all those who've seen these atrocities, rest assured – we want to say that we will bring the fight against terrorism and will be without pity because when terrorists are capable of such atrocities, it will certainly be faced with a determined France, a united France."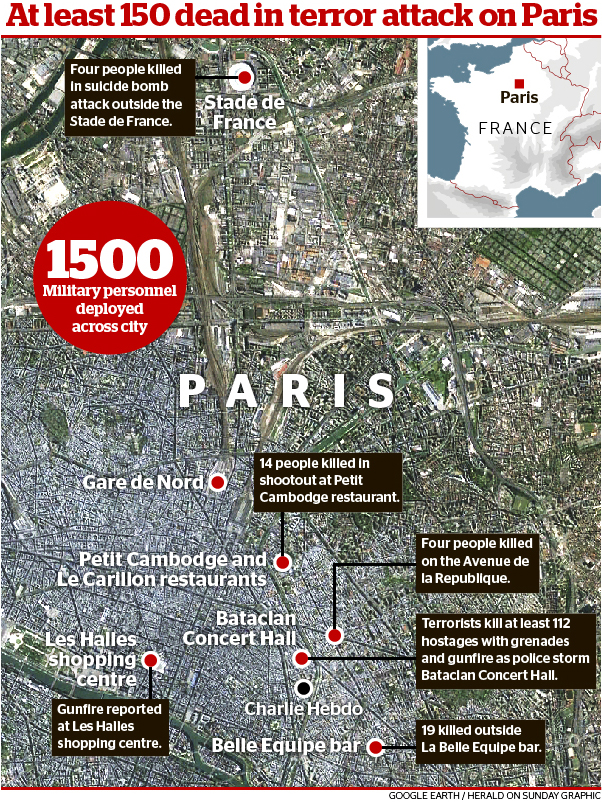 One young witness who gave his name as Hervé told The Telegraph in the street near the Bataclan rock venue that he had escaped through an emergency exit.
"Three men with Kalashnikovs and wearing flak jackets burst in in the middle of the concert. There were probably around 1,000 people there. They just started spraying bullets. I saw a girl hit right in front of me. There must have been quite a few dead."
He said the men were not wearing masks and that they were in their 20s or 30s.
Terrorists launched a total of six coordinated attacks at high-profile sites across Paris:
• Two suicide bomb attacks at a bar near the Stade de France led to President Hollande being evacuated from the stadium.
• Two terrorists with AK47s burst into the Bataclan concert hall, where rock band Eagles of Death Metal were performing. They sprayed bullets and threw grenades into thousands of people before they started slaughtering people one by one.
• A terrorist armed with an AK47 killed at least 11 people at Cambodian restaurant Le Petit Cambodge in the Bastille area on Rue Bichat.
• Gunfire and bomb blasts have also been reported at the Louvre art gallery, the Pompidou Centre and Les Halles shopping centre.
(France24, AFP, AP, Reuters, Euronews)