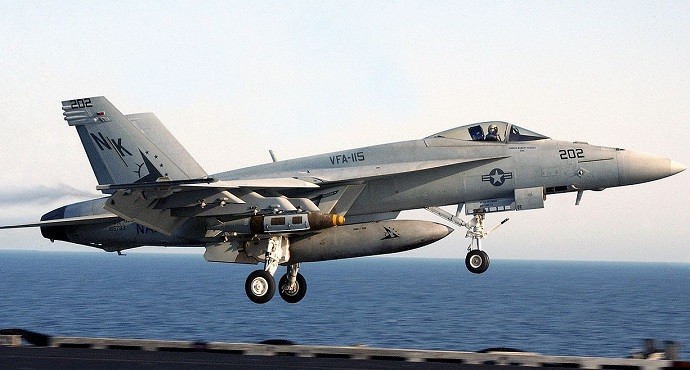 More than half of the US Navy's force of Super Hornet and F/A-18 jet fighters are grounded
More than half of US Navy's strike fighters can not fly, predominately because the aircrafts are undergoing maintenance and there is not enough money to fix them.
Nearly two-thirds of  US Navy's force of Super Hornet and F/A-18 jet fighters are grounded. In all, more than half of the Navy's planes are grounded, including some 1,700 combat transport aircraft, patrol aircraft, planes, and helicopters.
The Navy has also claimed that 15 percent of its facilities are in need of replacement, demolition or repair.
Almost 53 percent of all Navy aircrafts are not airworthy including 1,700 helicopters, transport and patrol planes, and combat aircraft.
Thirty-five percent of grounded fighter planes are waiting for parts, while 27 percent are undergoing major depot work, according to the report published by Defense News.
About 62 percent of F/A-18 Hornet and Super Hornet strike fighters are out of service, a concerning figure because of the essential role the planes fill in the fleet's combat power.
This situation contrasts with the Trump administration's pledge to increase the number of naval ships from 308 to 350. Moreover, Chief of Naval Operations Adm. John Richardson's Force Structure Assessment calls for a fleet of 155 ships.
With five months left in fiscal year 2017 and a deficit across all four military branches, Sen. Tom Cotton (R., Ark.) has advocated an emergency $26 billion supplemental spending bill that would direct some of the funds to readiness training for pilots.
Cotton said Congress needs to increase the defense budget by at least 15 percent in fiscal year 2018 to recoup the military's losses.
"To put it briefly, we need more ships, more soldiers, more Marines, and more aircraft of virtually every kind," Cotton said.
"More broadly, we need to invest in the men and women of our armed forces. We need to give them the training and equipment they need to do their jobs and we need to do this urgently."