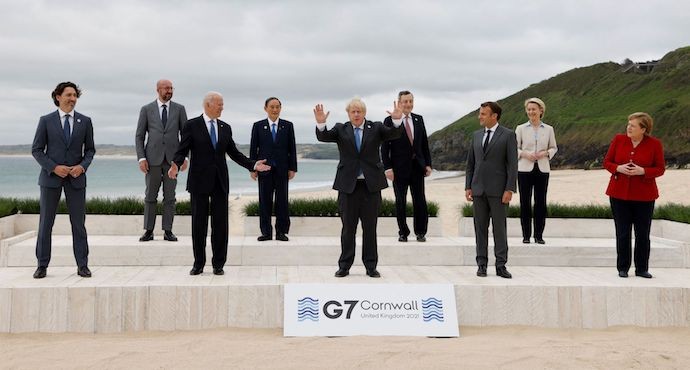 The G7 summit in Cornwall, UK, has concluded with the world leaders making major pledges on COVID-19, tax and the environment. Here are some of the things that stand out from the talks following the meetings between the leaders of Group of Seven (G7) – the United States, Canada, United Kingdom, Germany, Italy, France and Japan:
1. G7 agrees 1 billion COVID-19 vaccine doses
The G7 countries will provide 1 billion COVID-19 vaccine doses over the next year and work with the private sector. The members said they will "work together with the private sector, the G20 and other countries to increase this contribution over the months to come," the communique said.
2. G7 launches B3W to rival China
US President Biden and G7 partners agreed to launch the new global infrastructure initiative Build Back Better World (B3W) primarily to counter China's influence and its Belt and Road Initiative (BRI). It will "help narrow the $40+ trillion infrastructure need in the developing world", which has been exacerbated by the COVID-19 pandemic, according to the White House. Its four areas of focus are: climate, health and health security, digital technology, and gender equity and equality.
3. Pledge climate action
The G7 nations have agreed to step up action on climate change and renewed a pledge to "to jointly mobilize $100 billion per year from public and private sources, through to 2025" to help developing countries tackle the impact of climate change. G7 leaders pledged to phase out coal-fired power generation at home and to end funding for new coal-burning power plants in the developing world.
4. Tech giants and tax reforms
The summit agreed on measures to discourage multinational companies from shifting profits to low tax-havens. They agreed to levy a minimum tax on multinational firms of at least 15% on a country by country basis. Our collaboration will create a stronger level playing field, and it will help raise more tax revenue to support investment and it will crackdown on tax avoidance," the communique said.
5. China and Russia – a priority of G7 leaders
G7 nations adopted a tough line against threats China and Russia. The communique said the G7 "will promote our values, including by calling on China to respect human rights and fundamental freedoms", particularly in Xinjiang province. It also raised the situation in Hong Kong, calling on Beijing to respect the "rights, freedoms and high degree of autonomy" enshrined in the Sino-British Joint Declaration and the Basic Law. The issues of chemical weapons and cyberattacks were also in the spotlight as G7 countries demanded that Russia take action and investigate the use of chemical weapons within its territory and hold accountable those behind ransomware attacks and other cybercrimes.
https://twitter.com/G7/status/1404084216049115141