Highlights of NATO Foreign Ministerial Meetings 2021

M. Ahsan - April 04, 2021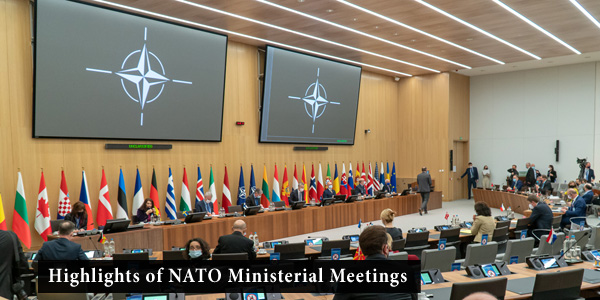 Foreign ministers of allied countries met at NATO Headquarters in Brussels on March 23-24, 2021.
The NATO Foreign ministers held discussions on various issues including NATO's 2030 agenda, ongoing mission in Afghanistan, climate change, regional security efforts, Russia's aggression, and issues related to China. Secretary General Stoltenberg said that NATO has the "capabilities to deter and defend against all manner of threats to our collective security, including threats like climate change and cyber attack".

On March 23, 2021, Secretary General Jens Stoltenberg summarized the conclusions of the first day of meetings of NATO Foreign Ministers by saying that "ministers have had a very positive discussion on NATO 2030 initiative". Stoltenberg pointed out that all NATO members "agree that the transatlantic relationship, remains the cornerstone of our collective defense, central to our political cohesion, and an essential pillar to the rules-based order".

NATO 2030 initiative include:
- Russia's destabilizing activities;
- Terrorism threat;
- Cyber attacks and nuclear proliferation;
- Disruptive technologies;
- The rise of China;
- Security impact of global warming and climate change.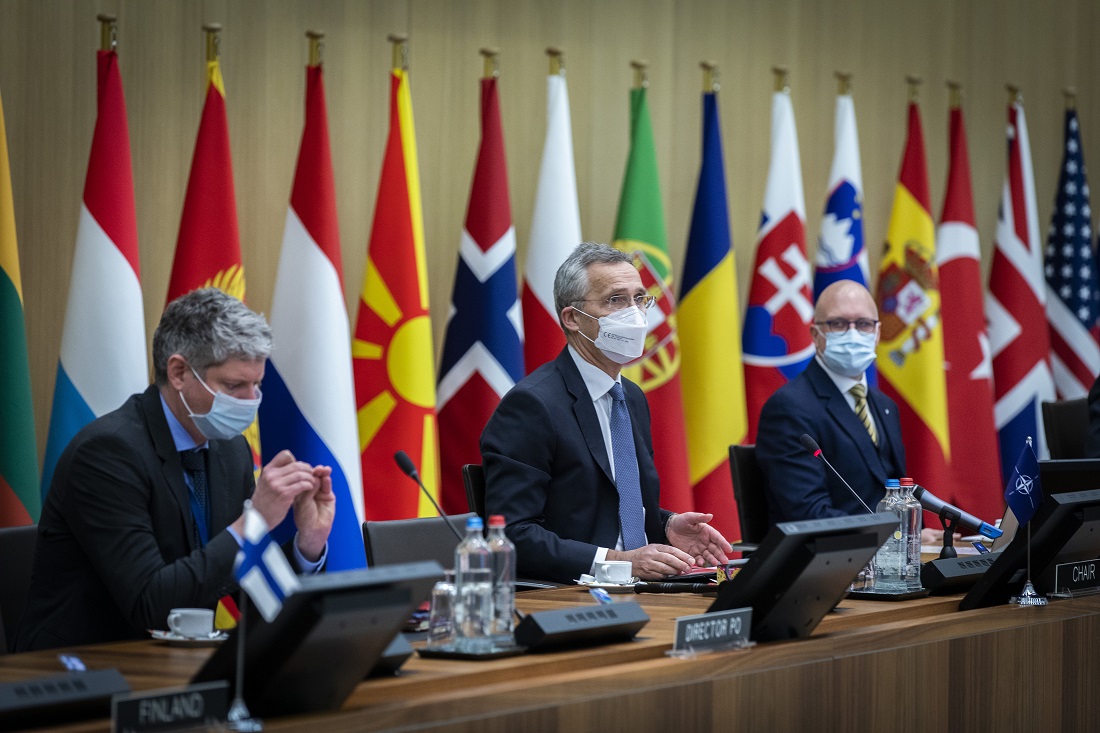 NATO Secretary General Jens Stoltenberg at the meeting of the North Atlantic Council in Foreign Ministers' session on March 24, 2021. (Photo Credit: NATO)


NATO Secretary General Jens Stoltenberg said that NATO 2030 initiative "is all about how NATO can continue to adapt to a rapidly changing security environment, with rising threats and systemic competition, major shifts in the global balance of power and increasing challenges to the rules-based international order".

The NATO 2030 is also about broadening the security agenda and making sure that we have reliable infrastructure, energy grids, telecommunications, 5G networks, technology to make sure that we maintain the technological edge, said NATO Secretary General Jens Stoltenberg.

The U.S. Secretary of State Antony Blinken, who joined the NATO ministerial meetings in Brussels, said the Biden administration wants to rebuild its partnerships, "first and foremost with our NATO allies". NATO's Secretary General praised Secretary Blinken's strong personal commitment to NATO, saying we now have "a unique opportunity to start a new chapter in the transatlantic relationship". Similarly, French Foreign Minister Jean-Yves Le Drian welcomed the U.S. secretary of state's favorable comments about NATO.

On climate change, NATO Secretary General Jens Stoltenberg said NATO members would strengthen efforts to respond to global warming and climate change. Stoltenberg stressed that "climate change is a crisis multiplier" and making the world a more dangerous place, therefore, NATO has to address the climate change and would integrate the issue into NATO military planning and exercises.

On Afghanistan, the U.S. Secretary Blinken said that the U.S. and NATO allies are "seeking to bring a responsible end to the conflict" and withdraw troops from the country. Blinken further said that "we are collectively determined to ensure that Afghanistan never again becomes a safe haven for terrorists who could threaten the United States or our allies". NATO Secretary General Jens Stoltenberg said that "European allies and partners from all over the world have been together with the U.S. in Afghanistan for two decades" and he considers NATO foreign ministerial meeting as an excellent opportunity between all 30 allies to consult "the way forward in Afghanistan". Stoltenberg stressed that the peaceful negotiation is the "only path to a lasting political solution in Afghanistan." Stoltenberg said that in order to achieve peace, all parties must negotiate in good faith, the Taliban must stop supporting international terrorists such as al-Qaida and there needs to be a reduction of violence in Afghanistan.

Germany's Foreign Minister Heiko Maas warned against a premature troops' withdrawal from Afghanistan, stressing that it would undercut security gains in the country. Maas said that "we want a conditions-based withdrawal of all forces from Afghanistan".

On the second day of the NATO foreign ministerial meeting, the allied nations discussed challenges posed by Russia. Secretary General Jens Stoltenberg said "neither NATO, nor the European Union has all the tools to respond. But together we can complement each other". NATO Foreign Ministers concluded that "Russia continues its wide-ranging military build-up, from the Baltic to the Black Sea, in the Middle East and North Africa and from the Mediterranean to the Arctic. The NATO allies called out Russia's disinformation and propaganda, cyber attacks, its efforts to influence elections as well as the use of chemical weapons against political opponents, both at home and abroad.

NATO Secretary General Jens Stoltenberg stressed that NATO's dual-track approach to Russia, combining strong deterrence and defense with openness to dialogue, remains valid. He underlined that all Allies welcome the recent decision to extent the New START Treaty and that NATO remains a unique platform for Europe and North America to consult on the future of arms control.

On China, Secretary General Jens Stoltenberg said that China's rise has direct consequences for alliance security, but stressed that NATO countries do not consider China as an adversary. Stoltenberg noted that "China is a country which used coercion against the neighbors in the region", including the South China Sea. NATO Secretary General also stressed that China does not "share our values… suppress minorities in their own country, and undermine the international rules-based order". Stoltenberg highlighted that one of the challenges NATO face is "how to strengthen and work more closely together as allies, responding to the rise of China".

The U.S. Secretary of State Antony Blinken listed China first when speaking of major power threats to other countries, which suggests that China will have a prominent place in NATO's emerging new Strategic Concept.

Hans Binnendijk of DefenseNews believes that the NATO's focus tends to be on "security aspects of Chinese investments in European infrastructure, the vulnerability of defense supply chains containing material made in China, the consequences of Chinese technology embedded in communications systems, China's political influence in Eastern and Southeastern Europe, and small-scale Chinese naval exercises in European waters." Binnendijk argues that Europe is now taking constructive steps to deal with many of these critical problems, but NATO also needs to open its aperture beyond Europe as it assesses the broader security challenge posed by China.

On March 24, 2021, the U.S. Secretary of State Antony Blinken also met with European Commission President Ursula von der Leyen and the EU's Foreign Policy Chief Josep Borrell in Brussels. The U.S. Secretary Blinken discussed economic recovery efforts in response to the COVID-19 pandemic and addressed "global challenges that come from Iran, Russia and China."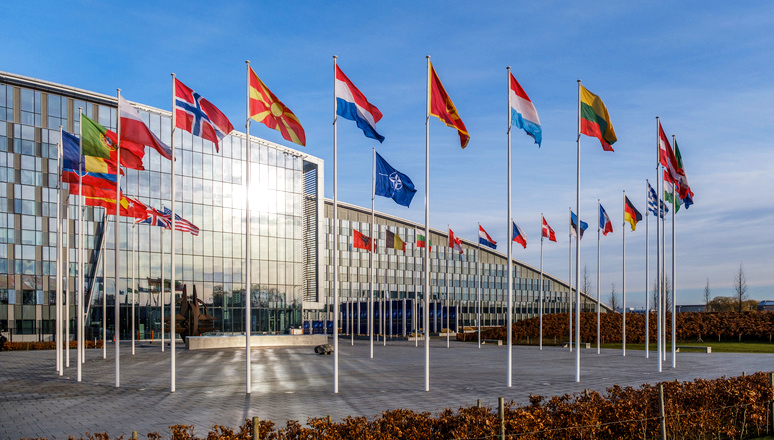 Photo Credit: NATO


On March 30, 2021, NATO Secretary General Jens Stoltenberg, the U.S. Secretary of State Antony Blinken and Belgian Deputy Prime Minister and Foreign Minister Sophie Wilmes took part in a virtual meeting of Foreign Ministers of the Global Coalition to Defeat ISIS.

Secretary General Stoltenberg said "NATO remains committed to the lasting defeat of ISIS". Stoltenberg highlighted that "for several years now, we have been supporting the Global Coalition directly with AWACS surveillance flights and with NATO's mission in Iraq," and that the expansion "will continue to be demand-driven, conditions-based, and incremental... with the consent of the Government of Iraq and in full respect for Iraq's sovereignty and territorial integrity." Stoltenberg said that NATO will also continue to consult with key partners including the United Nations and European Union, and to coordinate closely with the Global Coalition going forward.